Cottonwood Cellars/Olathe Winery Tasting Room at Winery Row
by
Terry Sullivan
Summary: One of the four wineries that have tasting rooms at Denver's Winery Row on Pecos Street, Cottonwood Cellars shares a tasting room with Garfield Estates. If you can't bring the population to the wines at the winery, bring the wines to the population.
Cottonwood Cellars is a family-run estate winery and vineyard that began operations in 1994. The vineyards are located on a mesa at 5,600 feet altitude. Owner and winemaker Keith Read is quiet and prefers to let the wines speak for themselves. His wife, Diana is also an owner and is the force behind marketing Cottonwood Cellars wines. Currently the winery has 22.5 acres of grapes including Chardonnay, Riesling, Gewürztraminer, Cabernet Sauvignon, Merlot, Pinot Noir and Lemberger. The winery produces over 4,000 cases of wine.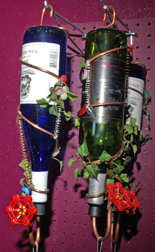 The tasting room at Winery Row is shared with Garfield Estates. One long tasting counter has wines from both wineries displayed. Artwork is displayed on the walls and there are tables set up for people interested in a more leisurely wine tasting. One interesting work of art is a hummingbird feeder made from a wine bottle by a local artist, Doug Glaspell.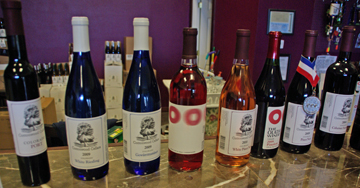 A few wines were tasted during our short visit. The 2005 Reserve Merlot is a wine for those who enjoy a touch of bret in their wine. The wine was in oak for two years and was a light ruby color. There were red cherries and bret on the aroma and taste. Bold tannins were accompanied by spice and bret on the finish. Diana mentioned that her husband, Keith, likes a touch of bret in some wines.
The 2009 Pinot Noir was a light ruby color and offered red berry fruit and mild tannins. The 2009 White Lemberger was a light red color with pink hues. There were red raspberries on the aroma while the taste had red raspberries and strawberries. The finish was crisp and fruity. The Gewürztraminer had a floral and spice aroma. There were peach and spice on the taste. The Colorado Port was s sienna color that was sweet with jammy fruit.
When in Denver, stop by Winery Row and taste Cottonwood Cellars wines.
Cottonwood Cellars/Olathe Winery Tasting Room at Winery Row
4640 Pecos Street
Denver, Colorado 80202
---
Visit this Colorado lodging facility that partners with Wine Trail Traveler.
| | | | |
| --- | --- | --- | --- |
| | | | |
| | Spero Winery | Wine Country Inn | |
| | | | |