Whitewater Hill Vineyards
by
Kathy Sullivan

Summary: Whitewater Hill Vineyards "want people to visit the area to know what the area has to offer." It is enjoyable to visit Whitewater Hill Vineyards and to discuss the AVA and winemaking with the husband and wife owners, Nancy James and John Behrs. Most wines are sold from their tasting room and winery although some wine is self-distributed to a few stores in Denver and Colorado Springs.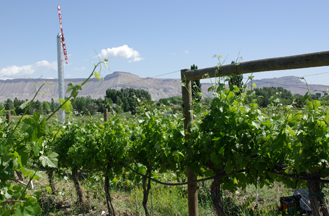 Nancy Janes and John Behrs left Boulder, Colorado to begin growing grapevines in 1998. After selling grapes for several years, they began producing wine in 2004. John is the vineyardist and Nancy is the winemaker.
Whitewater Hill Vineyards harvested their first grapes in 1998. Today they have on and offsite 37 acres of grapes. They sell eighty to ninety percent of their grapes. On the average over the years, they get three to four tons of grapes per acre. There are six acres of grapes planted on the site around the winery. Merlot is the largest planting with Riesling the second largest. Other grape varieties planted include Cabernet Franc, Cabernet Sauvignon, Syrah, Chardonnay, Gewürztraminer, Viognier and Muscat Blanc.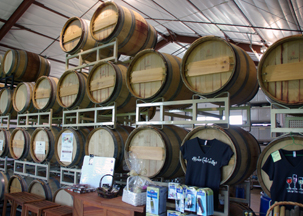 Located in the Grand Valley AVA the climate is consistent. The elevation of the vineyard is 4600 feet. Temperatures seldom go below 0 degrees during the winter while during the summer temperatures will get to 100 degrees. It does not usually rise above 100 degrees. Therefore, they can grow many of the vinifera grapes. With 180-growing days, they have the longest growing area in Colorado. Along with over 3500 degree-days, this Grand Valley area has a favorable climate for high production of excellent grapes. However, there are challenges including low temperatures in late fall, winter and spring. These low temperatures can cause vine splitting in the winter and bud damage in the spring.
In the winery, red wines are all in French or American oak. The quality of wines is important and emphasized by Nancy's comment, "I'm not going to bottle anything I don't like." Whitewater Hill points out that their grapes and wines are hand grown, handpicked and handcrafted.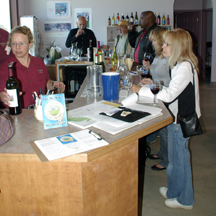 Wines available during our tasting included a 2006 Shiraz that was aged for nine months in French and American oak. The result was a fruit nose and taste with big tannins. The Cabernet Sauvignon 2005 aged in oak for 20 months. The nose was cedar with a taste of blackberry and cinnamon. There were big tannins. The Riesling 2007 had a residual sugar of 3 percent. The wine had a floral and peach nose with a fruit taste of peaches. The aftertaste dried out the palate. There was a very slight effervescence. The Muscat Canelli 2007 had a floral nose with a very smooth taste of melon and citrus. There was honeysuckle on the aftertaste. Zero Below 2007 was 100 percent Chardonnay late harvest. This grape was harvested in late October when the grapes were "raisining." The taste was of orange, fig and pineapple and resulted in a smooth mouth feel and sweet taste. This wine had an alcohol level of 13 percent with a residual sugar of 13.2 percent. It won the Double Gold Medal at the 2008 Finger Lake International Wine Competition. Only 95 cases were produced.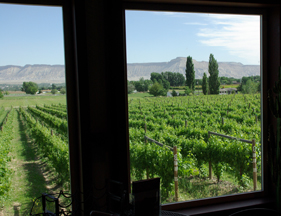 The tasting room offers views through large windows behind the tasting counter. Views of the vineyards just outside of the tasting room and mountains in the distance are seen. Gift and wine related items are available in the tasting room. Look for logo glasses and baseball caps, ceramic wine trivets, hand-blown wine stoppers and handmade pasta.
J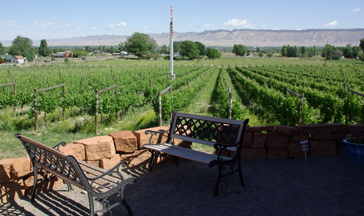 ust outside the tasting room there are a few benches and a table and chairs. This offers an idyllic location to enjoy a glass of wine and drink in the beauty.
Whitewater Hill Vineyards
220 32 Road
Grand Junction, Colorado 81503
---
Visit this Colorado lodging facility that partners with Wine Trail Traveler.
| | | | |
| --- | --- | --- | --- |
| | | | |
| | Spero Winery | Wine Country Inn | |
| | | | |