Minturn Cellars
by
Kathy Sullivan
Summary: Minturn Cellars is located in the historic town of Minturn, Colorado. The town and winery appears to have kept its historic heritage in mind with small shops existing in old buildings. Amble through the town before or after visiting Minturn Cellars.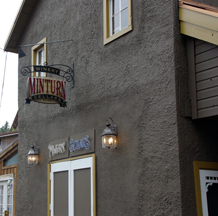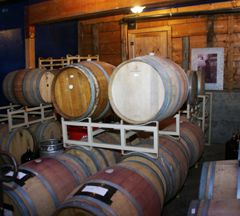 Located in a house built in 1900, Minturn Cellars offers visitors a unique view of the structure of an older home built while the town of Minturn was thriving from the railroad and mining industries.
The owners of Minturn Cellars began vineyards and a winery in Connecticut. Later they expanded to a location in Colorado Springs. Minturn Cellars is their third location. They began in Connecticut in a successful attempt to keep the family farm and land in the family. They "put in a vineyard to save the land."
Located just a short distance off I-70, a sign made the winery easy to find. Close to other small shops, this quaint winery is located on the first floor of a 1900 house. Overhead the wood beams look to be at least 12-inch widths. Despite it's small size the winery is able to produce about 2000 cases of wine each year. All wines are produced from Colorado grapes.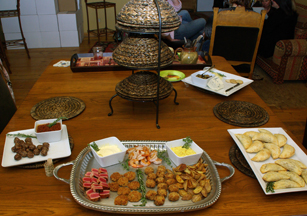 Above the winery/barrel room is an events room. The antique-style furniture, yellow walls and a small serving counter create a comfortable feeling room for small events. On this level, but outside is a deck with a fireplace and seating. We discovered that the painted brown wall of the building absorbs the heat of the sun and provides warmth for the deck. On the day of our visit there was a small event. Food was catered by Ali's Kitchen, just a few doors away from the winery.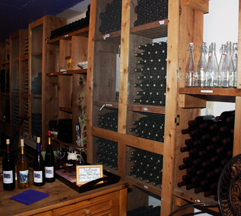 Next to the winery, a small, narrow room is the tasting room. They added this room to the winery in 1995. The walls have wood compartments of all sizes holding numerous wines as well as some unique objects. The next project to begin is to add a cobblestone patio outside of the tasting room.
Wines tasted included Riesling 2000 that aged well. The aroma was fruity with mineral nuances. The taste was very fruity and included apple, pear and peach aspects. The finish began sweet then dried.
Syrah 2007 offered an aroma of pepper. The taste was of red fruit and the finish was crisp. Merlot 2006 had a black fruit aroma and taste of blackberries and raspberries. The finish was crisp with mild tannins. Cabernet Sauvignon 2007 offered a blackberry aroma and taste. The finish was crisp and fruity. This wine was an easy drinking Cabernet Sauvignon.
When you visit, ask about the Medicinal Red wine story.
Minturn Cellars
107 Williams St
Minturn, Colorado 81645
GPS N 39° 35.349' W 106° 25.906'
---
Visit this Colorado lodging facility that partners with Wine Trail Traveler.
| | | | |
| --- | --- | --- | --- |
| | | | |
| | Spero Winery | Wine Country Inn | |
| | | | |