Virginia
Southern Region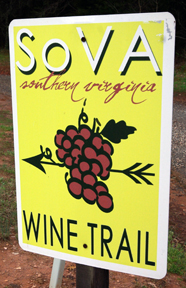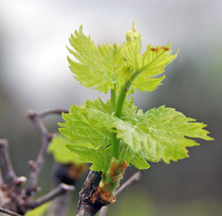 The Southern Virginia wine region is located south of the James River to the North Carolina border. The region was once ruled by tobacco. Now winegrowers are discovering varietal grapes that will produce great wines in this region with hot summers that are often dry in early summer. Growers have to keep a watchful eye on the weather, as remnants of hurricanes can add several inches of water in a short time. Depending on the timing, heavy rains can occur after or during harvests. The soil changes south of the James River and red clay is a common sight. Some vineyards are planted in a sandy loam that also is found in the region.
This is a relaxed wine region where wine enthusiasts can experience the boutique wine scene. Although wineries are spread out a bit further than most other areas of Virginia, the good roads have little or no traffic making travel through a rural and country setting a joy.
Common Varieties
As with other wine regions, there are plantings of Chardonnay, Viognier, Cabernet Franc, Cabernet Sauvignon, Merlot and Petit Verdot. Winegrowers are beginning to look at other parts of the world that have similar weather and soils. Varieties such as Tempranillo are beginning to show promise. Some growers also plant Native American varieties most noteably Norton. There are a few fruit wines. Several wineries make blackberry wine.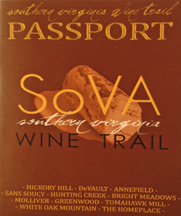 Wine Trails of Southern Virginia
The region has one main wine trail, SoVA, Southern Virginia Wine Trail. Twelve boutique wineries make up the trail. Wine travelers will want to pick up a passport book at the first winery they visit. The booklet costs $20 and with it all tasting fees are waved at each member winery. You also receive a SoVA souvenir wine glass. As one travels to the wineries, they can get a stamp for their passport book. With twelve stamps you can enter your book for a drawing to win two seats at a quarterly SoVA wine pairing dinner by Epicurean Underground.
For history lovers, two of the wineries in the Southern Region also participate in a state-wide Sesquicentennial Winery Passport program. The Virginia wineries featured in this program offer specially labeled wines commemorating the 150th Anniversary of the start of the Civil War. Twenty-three wineries throughout the state participate in this passport program. Near these wineries there are forty-two battlefields.
Enjoy a visit to Southern Virginia where you will discover a variety of wines with southern hospitality.
---
Visit these Virginia wineries and wine tour groups that partner with Wine Trail Traveler.