Greenwood Vineyards
by
Kathy Sullivan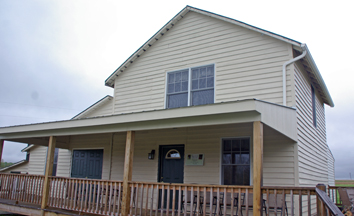 March 2011
Summary: Wine travelers will discover Greenwood Vineyards in Vernon Hill, Virginia is a delightful drive into southern Virginia's beautiful countryside. Paul Greenwood, owner and winemaker, is enthusiastic about wine growing and winemaking as well as keeping the family farm in the family.
We met Paul Greenwood, owner and winemaker, at Greenwood Vineyards. In 1999 Paul returned to living on the property in southern Virginia where he had grownup. In his chosen career he had been a professional photographer for the US Department of Veterans Affairs.
The farmland has been in his family since 1865. Tucked away in an old bible they found a bill of sale for the property. Paul is the sixth generation farmer on this land.
The winery tasting room and facility are located in an old tobacco barn that Paul has singlehandedly and skillfully renovated into a delightful, boutique tasting room with an event area on the second level. The event area would be excellent for small meetings. Beige-colored siding and a front porch add to the perception that this is a new building.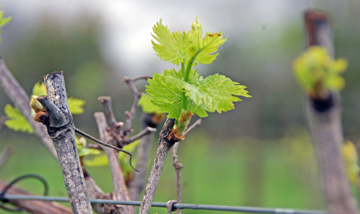 Paul began planting wine grapes in 2003. Currently the vineyards are planted in sandy, loamy soil with Merlot, Cabernet Franc, Chardonnay and Sangiovese. Half of the vineyard is nine years old and the other half is six years old. While observing the vineyards, Paul noted that the vineyard has 17 miles of wire for the trellis system. At the time of our late March visit, leaves were already out on some of the vines attesting to the warmer than average winter.
In 2006 Paul began selling grapes. Prior to beginning his own winery, Paul had been a home winemaker for 10 years. In 2009 he kept some of his grapes for making his own wine. In 2010 he kept more grapes and made more wine. Greenwood Vineyards became a licensed winery in 2010. Currently Paul produces 300 cases.
In earlier years Paul's mother made wine from Concord grapes growing nearby. The farm had been a tobacco farm and Paul's father was a tobacco auctioneer. Paul demonstrated the auctioneer calling. He sounded professional.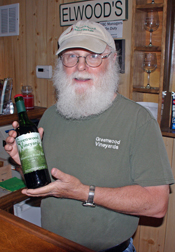 Wines

Merlot 2010 from Greenwood Vineyard was a ruby color. The aroma and taste was of dark fruit and earthy. Mild tannins were on the finish. Cabernet Franc 2010 was a ruby color. The aroma offered cherry and spice notes. Likewise the taste was of cherry and spice notes with an emphasis on pepper. Sangiovese 2010 was a light ruby color. The aroma and taste had cherry notes. The finish offered mild tannins and cherry notes yielding to pepper. Mountain Road Red 2010 was a blend of Cabernet Franc and Sangiovese. The light red wine offered an aroma of berry fruit and sweetness. The taste was very fruity. Mild tannins with fruitiness were on the finish.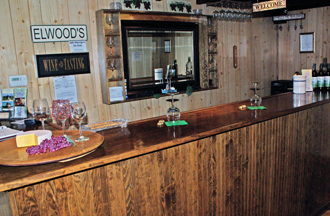 Molly's Mountain Rose was a dark pink. This wine was a blend of Cabernet Franc and Sangiovese. Sweet Samantha was a blend of Cabernet Franc and Viognier. The aroma and taste offered berry fruit notes. The finish was crisp and fruity. Chardonnay 2010 was a light straw color. The aroma, taste, and finish offered pear and apple notes. There was a hint of minerality on the finish.
Wine enthusiasts will enjoy a visit to Greenwood Vineyards on the SoVA Wine Trail where they will discover a warm welcome from Paul and his wife as well as a variety of wines to taste.
Greenwood Vineyards
9050 Mountain Road
Vernon Hill, Virginia 24597
N36º 45.375' W79º 04.557'
---
Visit these Virginia wineries and wine tour groups that partner with Wine Trail Traveler.