Annefield Vineyards
by
Kathy Sullivan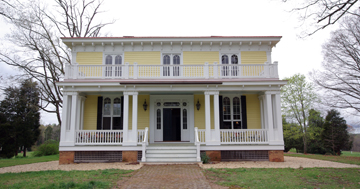 Summary: Annefield Vineyards, in Charlotte County, Virginia is on the SoVa Wine Trail. Visitors will discover a warm southern welcome at this Saxe, Virginia winery.
Wine travelers will find Annefield Vineyards' mansion by traversing a long driveway between green fields and tall trees. On the right of the driveway vineyards are seen in the distance.
Stephen Ballard and Michael Leary purchased the farm property and home in 2005. The Italianate-style large home, built in 1858, has been attributed to Jacob Holt, a well-known builder of that time period. At one time, William Jameson owned the property and it is thought that William named the property for his wife, Anne. Hillery M.L. Goode owned the house and 900 acre plantation where wheat and tobacco thrived for a time. However, Goud lost the house in 1880.
Ballard and Leary restored the mansion between 2005 and 2008 and as historic enthusiasts have added many antiques to the rooms. The property is on the U.S. Department of the Interior's National Register of Historic Places and on Virginia Department of Historic Resources' Virginia Landmarks Register.
Visitors will discover the Annefield Vineyards' tasting room inside the large ante-bellum Italianate home. The home is delightfully maintained and if time allows visitors may be invited on a tour of several rooms. Obviously the owners enjoy books, antiques and wine.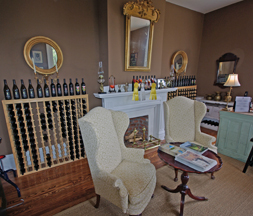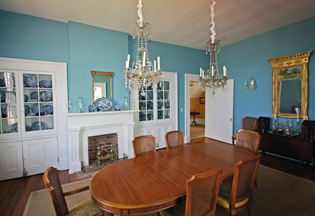 Vineyards and Winemaking
After investigating several different types of crops to grow Ballard and Leary focused their attention on grapes. Previously they had vacationed in areas with wine regions. It was logical they would decide on growing grapes and ultimately make wine. In 2006, they planted three acres of vineyards including Cabernet Franc, Cabernet Sauvignon and Viognier. In 2011 Vermentino, Pinot Gris and Vidal Blanc varieties were added. Today there are a total of 5.5 acres of vineyards. The vineyard is called "Arrowhead," named for the white quartz sappony arrowhead found on the vineyard site. After discovering there was not much money in the vineyard business they decided to become involved in the wine business. Currently wines are produced at Virginia Wineworks, a custom crush facility by winemaker, Michael Shaps. In the future, Ballard and Leary have their eyes set on adding a winery to the Annefield Vineyards' property.
The tasting room is housed inside the home. An old counter from a general store in Pennsylvania adds to the charm of the room. Care has been taken to add ambiance to the tasting room with gold-framed mirrors and a small sitting area.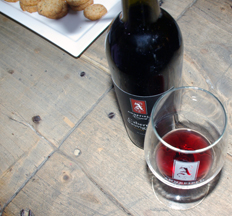 White Wines
The straw color Chardonnay 2009 offered aroma notes including apple, pear and tropical fruit. The taste had nuances of pear, banana and tropical fruit. The finish was crisp. Viognier 2010 was a light straw color. Tropical fruits were on the nose. The taste had tropical nuances and pineapple with a hint of citrus. The finish was fruity and crisp.
Red Wines
Cabernet Sauvignon 2009 from Annefield vineyard grapes was a light ruby color. The wine was aged in French oak for 12 months. The aroma had black fruit notes. Spice and black fruit were on the finish. The finish was crisp with tannins, fruit and spice. Cabernet Franc 2010 was a dark ruby wine produced from Annefield grapes. The aroma and taste had spice and red cherry nuances. The finish had tannins and was fruity with fruit yielding to spice. Red 2008 was a blend of Cabernet Sauvignon and Cabernet Franc. The color was a light ruby. The Annefield grapes were only two years old. The wine offered spice and fruit notes. There were mild tannins with a perceived hint of sweetness.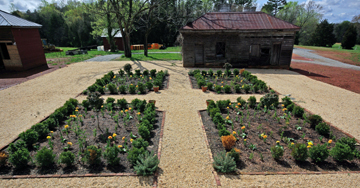 Dessert Wine
White 2009 was a blend of Chardonnay, Rkatsiteli and Vidal Blanc. The wine was fruity and sweet reminding one of a summer afternoon.
Enjoy visiting Annefield Vineyards' tasting room located in an 1800s home. The drive to AnnefieldVineyards is rewarding with its quiet roads and wines at the end.
Annefield Vineyards
3200 Sunny Side Road
Saxe, Virginia 23967

GPS: N36º 55.710' W78º 37.321'
---
Visit these Virginia wineries and wine tour groups that partner with Wine Trail Traveler.