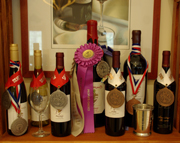 White wines
2010 Old Vine Chardonnay
2010 Viognier
2011 Riesling
2011 Petit Manseng
2009 Celebration
2010 Late Harvest petit Manseng

Red wines
2009 Cabernet Franc
2009 Merlot
2009 Ameritage
2009 Ameritage Reserve
2010 Cabernet Sauvignon
2010 Petit Verdot

Events
Weekdays or any evening
Invite your Family, Friends and Colleagues to a Private Tasting
Cost: Variable
Pearmund Cellars would be thrilled to host your private tasting tour for up to 50 guests. We can arrange catering for a dinner party, business meeting, family reunion, or initimate reception; offer winemaking talks or wine appreciation classes; and provide other personalized services. Contact us to your answer questions, discuss any special needs, and schedule your tasting.
May 4th; 1:00 - 3:00
Book Signing
Meet Richard Leahy, author of Beyond Jefferson's Vines.
May 11th
Wine Tourism Day
The first Wine Tourism Day in North America is on Saturday, May 11, 2013! Keep an eye out for details on how we will be celebrating this great international holiday!
May 12th; 11:00 am
Sermons in the Vines
Spring is here, and so it's time for our Sermons in the Vines series to start again! Join Pastor Kim on Sunday mornings in beautiful vineyard settings. The first Pearmund Cellars sermon is scheduled for Sunday, May 12 at 11AM.
May 12th;
Mother's Day Brunch Baskets
Join us with mom on Sunday, May 12 and purchase a Brunch Basket for only $35**. Each basket includes a bottle of our new 2012 Riesling, our local Farmer's Vegetable Cheese, Sliced Virginia Ham, Crab and Artichoke Spread, a box of crackers, 2 bags of pita chips and a Chocolate bar of your choice!
*while supplies last
**potential up-charge to exchange basket items
May 24th;
The Winemaker's Dinner Series at Airlie featuring Pearmund Cellars
Airlie Center is pleased to bring you The Winemaker's Dinner Series: an opportunity to experience Airlie's distinctive cuisine paired with Virginia's finest wines. Join Executive Chef Jeff Witte for this series premiere as he presents a locally-inspired, five-course dinner perfectly paired with wines selected by Chris Pearmund, one of Virginia's premier vintners, from Pearmund Cellars.
The Airlie Vintner's Package:
$398 per couple
Includes dinner, overnight accommodations, breakfast, taxes and gratuities
Dinner only: $125 per person
Limited space available, reserve your seat today.
Contact Brittany Carey at 540-341-3298
May 25th; 12:00 pm - 5:00 pm
Bad to the Bone
Join us on Saturday, May 25 from 12PM-5PM to enjoy some great food from Bad to the Bone Smokehouse with a great glass of wine!