Pearmund Cellars
6190 Georgetown Road
Broad Run, VA 20137
(540) 347-3475
Wine Trail Traveler article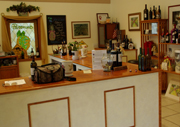 Sales: 11:00am - 5:00pm Daily
Tastings: 11:00am - 5:00pm Daily

Tasting fee: $3.00; $5.00 if you keep the souvenir glass; Groups of six or larger $5.00
Tours: Available upon request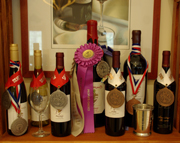 White wines
2011 Old Vine Chardonnay
2011 Viognier
2012 Riesling

2010 Late Harvest petit Manseng
2011 Late Harvest Traminette

Red wines
2010 Cabernet Franc
2010 Merlot
2010 Ameritage
2010 Ameritage Reserve
2011 Cabernet Sauvignon
2011 Petit Verdot

Events
Weekdays or any evening
Invite your Family, Friends and Colleagues to a Private Tasting
Cost: Variable
Pearmund Cellars would be thrilled to host your private tasting tour for up to 50 guests. We can arrange catering for a dinner party, business meeting, family reunion, or initimate reception; offer winemaking talks or wine appreciation classes; and provide other personalized services. Contact us to your answer questions, discuss any special needs, and schedule your tasting.

On-going

The Great Skedaddle: Wine on 29!
Looking for a fun, new wine trail? Join us in The Great Skedaddle: Wine on 29!
Three great wineries - Pearmund Cellars, Vint Hill Craft Winery and Winery at Bull Run - have formed a wine trail along Route 29, the path of The Great Skedaddle . Simply go to any of the wineries and purchase your punch card for $20. The punch card is valid for a tasting and souvenir glass at each of the three locations. Once you visit all three (and there's no expiration date, so visit them at your leisure), you'll receive a special prize!


July 2nd, September 3rd; 11:00 am
Sermon From the Vines with Pastor Kim Ciftci
A spiritual way to further understand wine, the process of making wine and its religious connection. Pastor Kim will visiting different vineyards throughout the growing season. Services will be 11am at

July 9th, 6:30 - 9:00 pm
American Wine Society
Rosés
August 12th, 13th, 19th, 20th; All-day
Ameritage Blending Class with Ashton
Be the Winemaker!! Ashton will lead you as you compete with other groups to make the best Bordeaux blend you can. Limited to 10 teams of 2, admission includes lunch, a commemorative t-shirt, bottle of wine and winners get a credit on our 2016 Ameritage labels. Varying time slots available, depending on date. For additional details and to RSVP, please call the winery at 540-347-3475.
$100/couple