Pearmund Cellars
6190 Georgetown Road
Broad Run, VA 20137
(540) 347-3475
Wine Trail Traveler article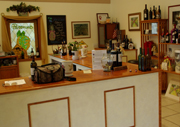 Sales: 11:00am - 5:00pm Daily
Tastings: 11:00am - 5:00pm Daily

Tasting fee: $3.00; $5.00 if you keep the souvenir glass; Groups of six or larger $5.00
Tours: Available upon request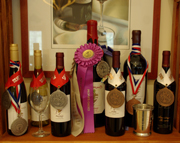 White wines
2011 Old Vine Chardonnay
2011 Viognier
2012 Riesling

2010 Late Harvest petit Manseng
2011 Late Harvest Traminette

Red wines
2010 Cabernet Franc
2010 Merlot
2010 Ameritage
2010 Ameritage Reserve
2011 Cabernet Sauvignon
2011 Petit Verdot

Events
Weekdays or any evening
Invite your Family, Friends and Colleagues to a Private Tasting
Cost: Variable
Pearmund Cellars would be thrilled to host your private tasting tour for up to 50 guests. We can arrange catering for a dinner party, business meeting, family reunion, or initimate reception; offer winemaking talks or wine appreciation classes; and provide other personalized services. Contact us to your answer questions, discuss any special needs, and schedule your tasting.

On-going

The Great Skedaddle: Wine on 29!
Looking for a fun, new wine trail? Join us in The Great Skedaddle: Wine on 29!
Three great wineries - Pearmund Cellars, Vint Hill Craft Winery and Winery at Bull Run - have formed a wine trail along Route 29, the path of The Great Skedaddle . Simply go to any of the wineries and purchase your punch card for $20. The punch card is valid for a tasting and souvenir glass at each of the three locations. Once you visit all three (and there's no expiration date, so visit them at your leisure), you'll receive a special prize!
March 4th/5th, 11th/12th, 18th/19th, 25th/26 and April 1st/2nd
Barrel Tastings
Every Saturday and Sunday in March, and the 1st weekend in April. The tasting includes appetizers and wine tasting currently in the barrels! Our winemaker will be running the tastings and you may pre-order bottles of wines from the 2016 vintage (futures) at that time at special pricing. Must purchase a minimum of 12 bottles which can be a mixed case. Two complimentary tickets are available for all barrel owners. Tastings are led by our winemaker, and are accompanied by exquisite food pairings. Barrel Tastings are $40 person and reservations are recommended.
Please email Deb Eakins.

March 12th; 6:30 pm
John Marchall Chapter, American Wine Society Meeting
Social hour 6:30pm
Education/Meeting at 7:00pm
All are welcome. Fee is $20 per person. Send RSVP to JMarshall_AWS@yahoo.com
May 7th, July 2nd, September 3rd; 11:00 am
Sermon From the Vines with Pastor Kim Ciftci
A spiritual way to further understand wine, the process of making wine and its religious connection. Pastor Kim will visiting different vineyards throughout the growing season. Services will be 11am at