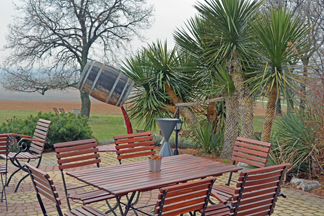 Wine Tasting
Whether a glass of wine or a professional guided wine tasting, interested wine travelers and enthusiasts can learn more about wine by visiting Vylyan.
Classic wine tasting: HUF 1,800
Premium wine tasting: HUF 2,800
Selected wine tasting: HUF 3,800
The tasting quantity is 500 centilitres (1.7 US fluid ounce ), and tasting includes mineral water and dry snacks.
Wine tasting and a guided cellar tour can be requested in both English and German languages.
Hours
Monday: closed
Tuesday-Wednesday: 11:00 PM – 5:00 PM
Thursday – Friday: 11:00 AM – 9:00 PM
Saturday: 10:00 AM – 9:00 PM
Sunday: 10:00 AM – 4:00 PM
Wines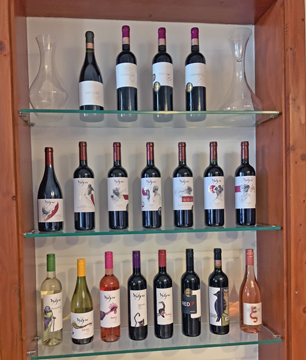 Classic
Boszorkány Riesling
Kakas Rose
Hërka Chardonnay
Kszí Pinot Noir Pearly Wine
Villányi Red
Belzebub Cuvée
Premium
Pinot Noir
Kékfrankos
Montenuovo
Merlot
Cabernet Sauvignon
Villányi Franc
Csóka
Syrah
Selections
Gombás
Dobogó
Mandolás
Pillangó
Duennium
Cellar Tour