Kentucky
Kentucky is the land of thoroughbreds and bourbon. Prior to Prohibition, though, Kentucky was the third largest wine producing state in the country. However, during Prohibition, wine grape vineyards were pulled out. Now the state is seeing a growth in the wine industry. Most of the state's wine vineyards and wineries are located in the central and northern parts of Kentucky. Currently there are fifty-five licensed wineries in the state.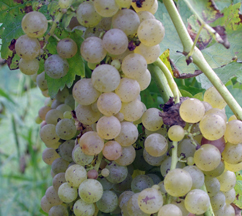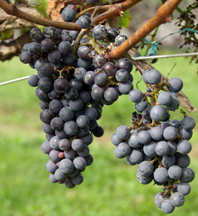 Over 100 grape producers have vineyards of vinifera, hybrids and American varieties. There are more than 500 acres of vineyards in the state. The most prevalent wine grape is Vidal Blanc, followed close behind by Cabernet Sauvignon and Chambourcin. Other grape varieties with more than twenty acres planted include Norton, Cabernet Franc, Traminette, and Chardonnay.
The weather in Kentucky is unpredictable from year to year. Dry hot summers can be followed by cool wet summers. Grapes will reflect the terroir and wine travelers may want to have verticle tastings to see the difference weather can have on wines. Winters in some areas of the state can have high temperatures in the seventies followed by low temperatures a few days later in the teens. Vinifera grape vines have a difficult time tolerating those extreme temperature swings and their trunks may split. They then become more suspectable to disease and insects. The growers in the state have more success with the hybrids that can better tolerate temperature swings. However with proper location and care some of the vinifera grapes will grow.
Many of Kentucky's vineyards lie in the Ohio River Valley AVA. This is the largest land acreage viticulture area in the nation covering 16,640,000 acres in four states: Indiana, Kentucky, Ohio and West Virginia. Although the land mass is great, this designated viticultural area has few acres of wine grapes compared to other wine regions in the country.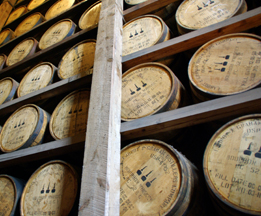 Bourbon Trail
While in the wine country, wine travelers can also travel the Bourbon Trail. This is the only bourbon trail in the world. There is a multi-century history of Bourbon in Kentucky. Eight distilleries are members of the Bourbon Trail. Visitors can learn the story of bourbon, its history and the process of making it. It is interesting to note the differences between producing wine and bourbon. For instance winemakers often use oak barrels that are toasted. Think of bread that you can toast in the toaster. Distillers use oak barrels that are charred. Think of over toasting a slice of bread to where it is black. There are many similiarities and differences between bourbon and wine production.