Chrisman Mill Vineyard and Winery
by
Kathy Sullivan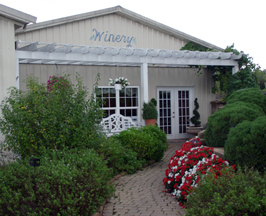 Summary: Chrisman Mill Vineyard and Winery uses only Kentucky fruit in their wines. An additional building for a wine and culinary school is planned for 2010. Enjoy a visit to a winery with a Tuscan themed design.
Arriving at the entrance to Chrisman Mill Vineyard and Winery one sees a long driveway with a vineyard on the right. After parking near a house, visitors walk a short distance to the tasting room. Visitors are greeted with a delightful colorful entrance, lined with a brick pathway, to the facility. One side is covered with red and white impatiens while the other side has herbs. The winery was named afte.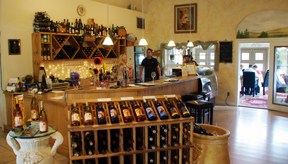 Inside, the tasting room has a wonderful ambiance with walls painted with Tuscan scenes. Light wood floors keep the room bright. Several tables and chairs are available where one can enjoy a glass of wine. A second room is available for special events. This event room is bright and cheerful with windows allowing in plenty of light.
Today Chrisman Mill Vineyard is located on a 10-acre property with 3 acres of vineyards. These vineyards include Vidal, Chancellor, Cabernet Franc, Norton and Seyval Blanc.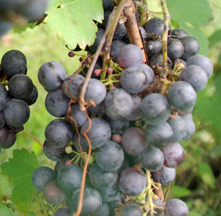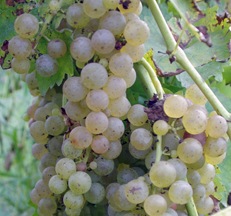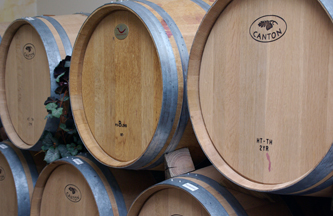 Chris and Denise Nelson began a winery after producing a Riesling wine for their wedding. Chris is a medical doctor whose specialty is pediatric infectious disease at the University of Kentucky. Denise is an architect. At the winery, Chris is the winemaker while Denise is the executive chef. The labels on the wine bottles feature paintings by Denton Lund, Denise's father who created a Native American series of paintings.

Currently the winery produces over 3,000 cases of wine and they hope to increase production in 2010. In 2010 they hope to open a new building that will be home to a winemaking school and a culinary school.
Steven Dowdell is the assistant winemaker, who has always been interested in wine and is enthusiastic about all aspects of wine. He believes that a winemaker "can't make a good wine from bad grapes." We tasted several wines with Steven.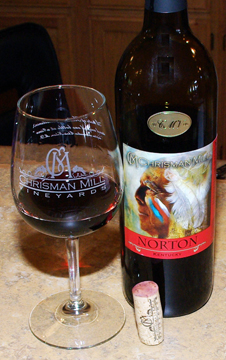 White Wine
The Ensemble was produced with Vidal Blanc. This is the best selling wine for the winery. The wine offered a fruit salad taste that yielded to citrus. The wine began sweet and then dried on the finish.
Red Wine
Norton 2006 was a dark red-brown color. The aroma was earthy while the smooth taste was earthy and spicy. The finish was crisp with mild tannins. A barrel tasting of the Norton 2008 offered an aroma with spices. The taste had a velvety mouth feel with dark fruit and a spice taste. The finish had good tannin structure. First Vineyard Reserve 2006 was produced with Chambourcin. The aroma was of red cherries and spice. The taste offered some dark fruit with nuances of tobacco. The finish was crisp with mild tannins.
Events
Chrisman Mill Vineyards and Winery offers a variety of activities including private and public events. Private events include weddings, rehearsal dinners and anniversary celebrations. The winery also has numerous public events available. Some of these events include Tuscan dinners and Saturday brunches. For more information, check out Chrisman Mill Vineyard and Winery's website.
Enjoy a visit to Chrisman Mill Vineyard and Winery where the wines are produced from grapes grown only in Kentucky.

Chrisman Mill Vineyard and Winery
2385 Chrisman Mill Road
Nicholasville, KY 40356
GPS: N37º 50.370' W84º 30.167'