Lovers Leap Vineyards and Winery
by
Kathy Sullivan

Summary: Lovers Leap Vineyards & Winery is the site of the largest vineyards in Kentucky. The tasting room is spacious with an adjacent event room. Enjoy a glass of wine while relaxing on the deck that wraps around the winery tasting and event rooms.
Travelers to Lovers Leap Vineyards & Winery will discover the winery and vineyards after traveling a narrow, paved road. A wrap around deck provides views of the vineyards and Kentucky's countryside. Lovers Leap Vineyards & Winery is located not far from a rock formation referred to as Lover's Leap on the Kentucky River.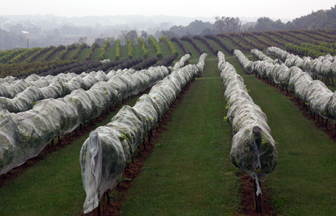 Logan and Pam Leet, owners of Lovers Leap, were involved in the furniture business, real estate and subsequently a hospitality business. In terms of owning a winery today, Logan said he always enjoyed wine. He smiled and added "nobody comes into the tasting room in a bad mood."
History
Ann and Jerry Holder planted five acres of grapevines in 1994. The resulting grapes were sold to other wineries. However, the Holders began to produce wine in 2000. The Holders branded the name Lovers Leap and this led the Leets to decide to keep the name. Today new wine labels have been designed for the wine bottles.
The vineyards, some of which were planted as early as 1994, consist of 30 acres of Cabernet Franc, Cabernet Sauvignon, Chardonnay, Riesling, Norton, Chambourcin, Cayuga, Vignoles and Vidal Blanc. Currently the winery is producing 5,000 cases of wine and has the capacity to grow to 20,000 cases. Logan commented that he would be happy producing 10,000 cases.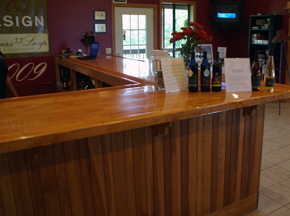 White Wine
Vidal Blanc 2006 offered a citrus aroma with citrus and apple notes on the taste. The finish had apple nuances accompanied with grapefruit notes. Riesling 2008 had an aroma of floral and peach. The taste was of peaches with rose nuances. The crisp finish had peach nuances. Bianca offered a mineral aroma with a sweet taste that lingered on the aftertaste. Suggested pairings include chicken, fish and cream sauces. Premiera, a blush, was a light summer fruit (like strawberries) with floral notes. This is a great summer wine.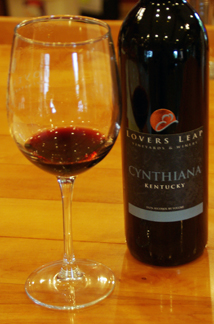 Red Wine
Cynthiana (Norton) 2007 had an aroma of black fruit jams with spice. The taste was of black fruit jam while the finish offered the additional nuances of pepper and smoke. Cabernet Sauvignon was a translucent ruby wine with an aroma of black fruit and tobacco nuances. The taste had notes of black fruit and tobacco nuances. There were bold tannins on the finish. Sloppy Seconds was an interesting wine created from a blend of seven wines. According to Logan this wine is a blend of the "cellar's forgotten children." These wines are given a second chance. Sloppy Seconds offered black fruit nuances all the way through. The wine ends with a hint of sweetness.
While visiting, enjoy browsing the wine related items for sale. Artisan work will be discovered. Amelia Sparro handcrafts potholders, wine bottle holders and more. Kate Lardner uses photographs to produce large note cards. In addition visitors will discover refrigerated cheese, soda, water and wine. Hand painted towels, handcrafted jewelry and wine accessories are all included in the displays.
Enjoy a visit to Lovers Leap Vineyards & Winery. Take time to enjoy a glass of wine on the deck while viewing the vineyards.
Lovers Leap Vineyards
1180 Lanes Mill Road
Lawrenceburg, KY 40342
GPS: N38º 05.584' W84º 52.561'