Sonoma County Wine Region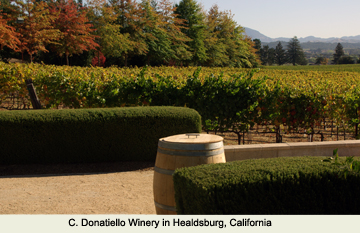 Just north of the Golden Gate Bridge lies Sonoma County. A million acres of land dotted by small towns, vineyards, redwood forests, farmland and the coast.
History
Russian colonists planted the first vineyards in Fort Ross in 1812. Spanish missionaries built missions and planted vineyards for sacrificial wine. When the Mexican government secularized the missions in the 1830's non-mission vineyards were planted. General Mariano Vallejo, the military governor of California, established the town of Sonoma and began cultivating grapes. In 1855 an Hungarian nobleman, Agoston Haraszthy, purchased the Salvador Vallejo Vineyard. Haraszthy collected cuttings from European vineyards and in 1861 returned to Sonoma County with 100,000 cuttings of nearly 350 different grapes. Following the Civil War, some European families, many with winemaking knowledge, settled the area.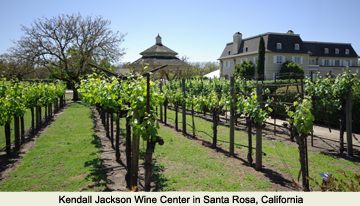 Vineyards
Sonoma vineyards and wineries had to endure both phylloxera and Prohibition. Many vineyards were replanted with orchards and wineries closed. However some survived. Now in the modern era of grape growing and winemaking, the county has over 62,000 acres of vineyards. In 2007 there were 350 wineries in the county and new wineries are opening each year.
Over fifty grape varieties grow in Sonoma vineyards. Commonly grown varietal grapes include Chardonnay, Sauvignon Blanc, Cabernet Sauvignon, Merlot, Petite Syrah, Pinot Noir, Syrah and Zinfandel.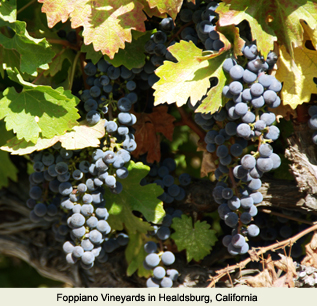 Sonoma County AVA's
Alexander Valley
Bennett Valley
Carneros also known as Los Carneros (also in Napa)
Chalk Hill
Dry Creek Valley
Green Valley of Russian River Valley
Knights Valley
Northern Sonoma
Rockpile
Russian River Valley
Sonoma Coast
Sonoma Mountain
Sonoma Valley
---
Visit these California organizations and wineries that partner with Wine Trail Traveler.