Field Stone Winery
by
Kathy Sullivan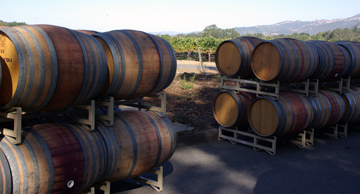 Summary: Field Stone Winery is a real working family winery. One of the vineyards was planted in 1894 and continues to produce grapes for their Petite Sirah wine. The winery is located within the Alexander Valley AVA in Sonoma Valley.
Field Stone Winery, located in Sonoma Valley, is a delightful winery to visit. A visitor to the winery will discover a winery with a focus on the past, present and future. Imagine viewing a vineyard with over 100 year old vines still producing grapes for wine. While the grapes produced from these vines are fewer in number, John Staten, owner and vintner believes that these grapes have more quality and produce better wines. The diameters of these vines are thick with age and they appear to be thriving.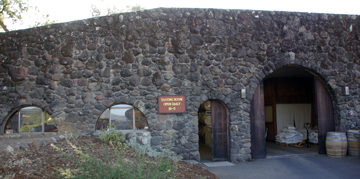 The tasting room and winery are located in an underground building built in 1976. The outside of the tasting room is covered with field stones that were uncovered during construction of the underground facility. The building is built into a hillside and provides cooling for barrels aging wine. A room lined with red oak, adjacent to the winery, is used for the tasting area. The facility has a pleasant rustic ambiance. Vineyards surround this building and other farm buildings. With hillsides in the distance everything is picturesque so visitors will want to have a camera with them.
History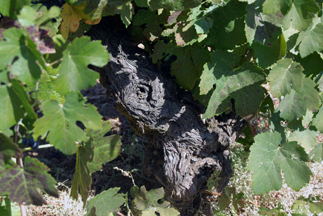 The first vineyards on the property were planted in 1894 and by Prohibition there were 90 acres of grapevines. When Prohibition limited the number of acres of vineyards to 10 acres many of the vineyards were pulled out.
The Field Stone vineyards were part of Wally Johnson's farm property. Wally was also an inventor. During the 1970's Wally created a prototype of a harvesting machine that was a combination of a harvester working with the crusher in the field. He believed that it would benefit certain varietals to be harvested and crushed immediately. An archived newsletter from Field Stone reveals, "There were the first all-too-brief years from 1977 to 1979, when my father-in-law, Wally Johnson, sought to establish a winery based on two of his own inventions: a mechanical grape harvester working tandem with a field crusher/press. His visionary notion was to produce wines whose youthful natural aromas and flavors could be captured at the source in the field…."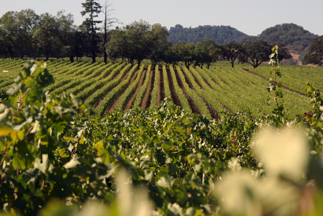 In later years, Wally Johnson's daughter, Katrina and her husband, John took over the winery and continue to operate it today. John Staten is a remarkable person to speak with as he is thoughtful and enjoys talking about the vineyards, history and quality of the wines. He recalled receiving advise on how to hire a viticulturist. It was suggested he ask two questions. "Do you have a garden? If the answer is no, follow it with "Would you like to have a garden?" If the answer is "no" to both questions then turn the applicant down. John was a theology professor before being asked to take over the winery. Today as vintner he also continues his writings. John sees the joy in the vineyards and the creation of wine.
Today the property consists of 50 acres with 38 acres under vine. The Petite Sirah planted in 1894 continues to thrive. Other more recent varietals include Viognier, Syrah, Cabernet Sauvignon, Merlot and Sangiovese. The soil in the vineyards is red clay and rocky. This type of soil provides stress to the grapevines that is helpful for grape production. Water for the vineyards is obtained from the nearby Russian River.
Currently the winery produces 8,000 to 10,500 cases per year. On the day of our visit we tasted several wines.
White Wines
Sauvignon Blanc 2008 offered an aroma of citrus and pineapple nuances. The taste had citrus notes while the finish was crisp and fruity. Staten Family Reserve "Viognier" 2008 had an aroma and taste of apricots and tropical fruit nuances. The crisp finish was fruity. Chardonnay 2007 offered an aroma of oak with caramel notes. The taste was of citrus and caramel nuances and the wine finish was crisp. Chardonnay 2008 was light yellow with a fruity aroma. The taste was smooth with a hit of caramel. The crisp finish had notes of apple.
Red Wines
Cabernet Sauvignon 2006 was a ruby color. The aroma and taste was of black fruit and the mouth feel was smooth. The wine finished with tannins and fruity nuances. Staten Family Reserve Cabernet Sauvignon 2006 was a dark ruby color. The aroma and taste offered dark fruit nuances especially notes of blackberries. The finish was fruit forward with bold tannins. Staten Family Reserve Petite Sirah 2006 was a dark purple. The aroma and taste were of black fruit with mineral nuances. The finish was fruity with bold tannins.
Enjoy a visit to Field Stone Winery where you can taste wine from a vineyard that is over 100 years old.
Field Stone Winery
10075 Highway 128
Healdsburg, California 95448
GPS: N38º 38.386' W122º 46.549'
---
Visit these California organizations and wineries that partner with Wine Trail Traveler.