Gloria Ferrer
by
K. L. Sullivan
Our first winery visit in California was to Gloria Ferrer and we were very pleased that we made this our first selection. The winery, tasting room and acres and acres of grapevines are amazing.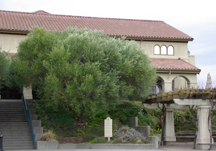 The approach to the winery is along an extended, winding driveway between acres of grapes. Slowly the driveway rises up to meet an elegant Spanish styled building. The entrance to the tasting room is at the top of a high and wide staircase. The tasting room has several double glass doors and to the right is a veranda overlooking the vineyard. Tables are available for sharing a bottle or glass of wine with friends. Plenty of room is available for quiet conversation. Rather than tasting the wines at a bar, visitors sit at a table and wine servers bring the wines to them.
We were fortunate to have as our guide, Skip Smith, an educational wine expert who has been with Gloria Ferrer for close to 20 years. Skip is obviously passionate about the vineyards and winery at Gloria Ferrer.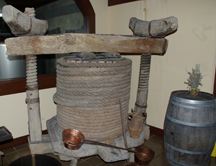 Leaving the tasting room where we met Skip, he took us to the nearby building which houses the winery. Here we entered a small room, which had a small assortment of historical equipment including a 400 year-old crusher and a machine that compresses a cork small enough to insert into a bottle. Over time the process of making wine has remained the same, but the equipment has changed in order to increase efficiency. One side of this small room has large windows overlooking the modern day efficiently run winery. Along with an assembly line, there is a large robot that can pick up several bottles at a time, place them on a table, pick up additional bottles then load all of the bottles into a riddling bin.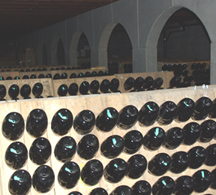 As we toured the facility, we learned that a certain amount of the sparkling wine in the winery is made using the traditional method that is hundreds of years old. This is in addition to the fact that with 440 acres of vineyards, all pruning and picking is done by hand. The workers usually pick the grapes in the middle of the night. This is done to protect the workers from the daytime heat and also helps preserve the flavor of the grapes. Although much of the method of making sparkling wines is automated, there are still a percentage of these sparkling wines that are riddled by hand. Skip took us into the tunnels where there were numerous riddling racks of wine bottles. Each bottle is still turned by hand just as they were hundreds of years ago. The tunnels also hold bottles for aging.
One of the goals of Gloria Ferrer has been to create sparkling wine for the consumer, which is of a high quality but also affordable. If someone would like to enjoy good sparkling wine with dinner frequently, they should be able to do so.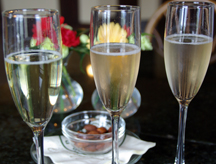 We like to encourage people to visit wineries for the experience. Gloria Ferrer is a large winery that ships wine to distributers. However this winery also produces varietal wines and sparkling wines, which are only available at their winery. This is another great reason to visit a winery. Perhaps you will find a special wine for yourself, which you wouldn't find on your local store shelf.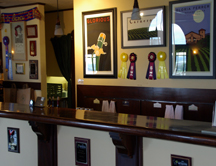 We ended our tour in the tasting room. This was a spacious room with ceramic tile floors, light yellow walls, accented with dark wood. Numerous small tables are available to sit down at while tasting wines. Despite the size of the room, its layout and design allows one to feel the ambience that one usually associates with small wineries.
The two most popular sparkling wines are Sonoma Brut and Blanc de Noir. Sonoma Brut is made with 87% Pinot Noir and 13% Chardonnay while Blanc de Noirs is made with 92% Pinot Noir and 8% Chardonnay.
If you are fortunate enough to be able to visit Gloria Ferrer be sure to ask to see the beautiful innovative bottle they have. Gloria Ferrer uses beautiful unique blue wine bottles, with the label engraved. This bottle because of its shape cannot be riddled by machine but only by hand.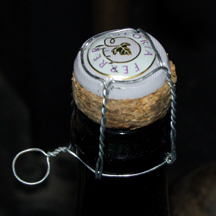 We left Gloria Ferrer with a very good feeling. This is a winery that cares about producing great wines with its focus on world class fruit, tradition, and its concern about its workers. Gloria Ferrer is a family who wants to embrace modern techniques while preserving a historical perspective. Best of all, a quote on a brochure from Gloria Ferrer Champagne Caves says it all, "For generations, my family has said, 'When you serve sparkling wine, you are serving a smile.'"
Gloira Ferrer Champagne Caves
23555 Carneros Highway (Rt. 121)
Sonoma, CA
Telephone: 707-996-0720

---
Visit these California organizations and wineries that partner with Wine Trail Traveler.