Trattore Estate Wines
by
Terry Sullivan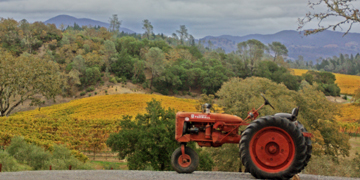 Summary: In northern Sonoma County hilltop vineyards offer visitors photo opportunities that are reminiscent of Tuscany in Italy. Olive trees and vineyards spread up and down slopes providing a splash of autumn colors.
In Italian, trattore means tractor. It is a fitting name for a winery. Tim Bucher, owner, has always had a fascination for tractors. At an early age of eight, he was interested in real tractors not model ones. Now Tim has a collection of tractors, one even bearing his last name Bucher. A drawing of this tractor is on the wine bottle labels. An old red Farmall tractor from Europe sits atop a hill overlooking vineyards. Tim's family also has a dairy farm in Russian River Valley where Tim was born and raised. Tim has a vast range of interests and expertise. He received his first degree in electrical engineering. Later he attended Stanford University.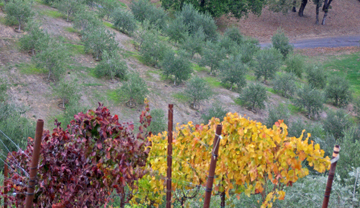 Estate Vineyards at Trattore
As a youngster, Tim wanted to live in the Dry Creek Valley of Sonoma County just ten miles north of his childhood home. He purchased forty acres of land and began clearing the land to plant vineyards. While clearing, he discovered olive trees that were over 100 years old. He decided to leave those trees and plant additional olive trees. Now the vineyards look like a quilt, separated by color and olive trees. Twenty-five acres are planted with mostly Rhone varieties. Varietals planted include Marsanne, Rousanne, Viognier, Grenache, Mourvedre, Syrah, Petite Sirah and Zinfandel. The vineyard is divided into ten individually managed blocks. Each block is hand harvested when the grapes are tasting ready and reach phenolic ripeness.
From the hilltop, one can view spectacular images of vineyards and olive groves. During a late November visit, wine enthusiasts can view shades of yellows to reds with olive greens offering contrast. One needs to take time here and absorb the views on all sides of the winery facility scheduled to open in the summer of 2012. The new tasting room will be a destination site and include cooking classes.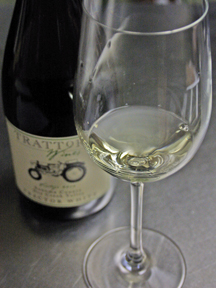 Wines
Tasting the wines currently takes place at the tasting room of the Dry Creek Olive Company in Healdsburg. The tagline for the wines is "great fruit to great wines." Visitors can also taste the olive oils.
The 2010 Roussanne was straw colored and offered tropical fruit on the aroma. Apricots and vanilla were noticed on the taste and the crisp finish was fruity. The 2010 Viognier was also straw colored and had tropical fruits on the aroma. The taste had hints of pineapple and peaches. The finish was crisp and fruity. The 2010 Tractor White was a very light straw colored blend of Marsanne and Roussanne. It had a peach aroma with a peach and tropical fruit taste. It too had a crisp and fruity finish.
Diamond Tread Red 2009 was a blend of Grenache, Syrah and Petite Sirah. The ruby colored wine offered a cherry aroma with cherries and spices on the taste. The finish had tannins and was chewy.The 2009 Zinfandel was a ruby color. The wine offered red berry fruit on the aroma and taste with a finish that had tannins and was fruity.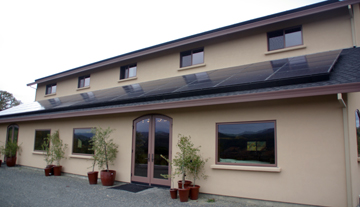 Watch for the opening of the new destination tasting room in 2012. Have a camera handy for beautiful views of Sonoma's vineyards and olive trees.
Trattore Estate Wines
Vineyard
7700 Dry Creek Road
Geyserville, CA 95441
Tasting Room
4791 Dry Creek Rd
Healdsburg, CA 95448

GPS: N38º 42.592' W122º 57.698'
---
Visit these California organizations and wineries that partner with Wine Trail Traveler.