B.R. Cohn Winery and Olive Oil Company
by
Kathy Sullivan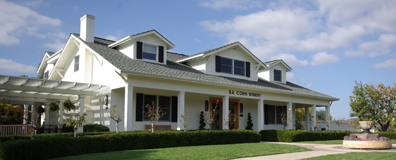 Summary: The B.R. Cohn vineyards have a unique microclimate with hot springs running under the ground. The focus of the winery is Cabernet Sauvignon that consistently receives high ratings. Look for olive oils, vinegars and special giftware in the designated olive oil tasting building.
Amble through the grounds of the B.R. Cohn Winery & Olive Oil Company as you visit the wine tasting room and the olive oil tasting room. A patio next to the tasting room is available for a picnic lunch provided one makes a purchase.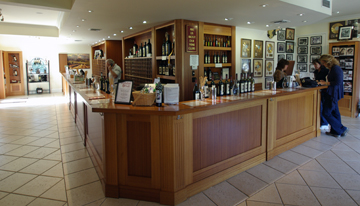 Tasting Room at B.R. Cohn
The tasting room is located in a large white building. The L-shaped tasting room is sophisticated with an L-shaped wood tasting counter. The staff is friendly and knowledgeable and quick to help visitors. Numerous wine related items are available including wine racks, wine aerators and stemware.
A nearby smaller building has numerous olive oils and vinegars available for tasting and sale. One olive oil is produced from 100 percent olive trees on the estate. Eight acres of olive trees are on the property. Other olive oils available have blends of estate olive oil and other off site olive oils. Old Estate Olive Picholine is 100 percent estate grown. Pressed offsite the aroma and taste had green apple notes. The olive oil was mild.

Vineyards
The vineyards have their own microclimate. Hot springs warm the soil. The land is located in the lee of a mountain providing an area that is calm and sunny. The majority of the 90 acres of vineyards consist of Cabernet Sauvignon and a few other grape varieties such as Zinfandel, Petit Verdot and Malbec. The Cabernet Sauvignon ripens two weeks earlier than in the rest of Sonoma.
B.R. Cohn's Background
B.R. Cohn has an extensive and varied history. Anyone having the opportunity to talk to Bruce Cohn, will discover that he has participated in a variety of activities throughout his life ultimately leading to owning a nationally known winery.
Bruce lived in Chicago until he was ten. His father owned a shoe store to which Al Capone and his associates would visit for new shoes. Bruce's brother had asthma and doctors suggested the family move to San Francisco. Eventually Bruce's father sold the shoe business and moved his family to San Francisco. In 1957 his father was driving through Sonoma County and noticed a farm for sale. He stopped and bought the property on the spot.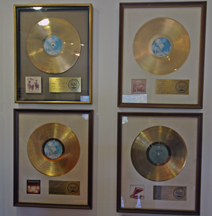 Bruce noted that he had grown up around music. His mother was a backup singer for Frank Sinatra's performances. His father sang opera at times while in Chicago.
While his father knew shoes, when he bought the farm he needed to learn about farming. Friends suggested he buy goats to keep the fields around the house controlled. Starting with four goats they eventually ended with 115 goats. Bruce helped to construct a modern dairy barn when a contractor walked off the job. Bruce and his brother had to milk the 115 goats twice a day while growing up. Today Bruce notes the work helped to create a good work ethic.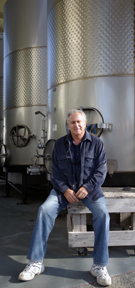 After graduating from college with a degree in Radio and Television Broadcasting, Bruce and his brother became involved in the entertainment industry. They operated a rehearsal hall where bands could rehearse before a live show. In 1969, he helped to get the Doobie Brothers started and went on tour with them in 1971. The band did not do well on their first tour. Bruce suggested they write a good song and they eventually wrote, "Listen to the Music." The Doobie Brothers became a hit and Bruce became the manager. After touring with the band for several years, Bruce decided to move back to Sonoma. Eventually he put a bid on the present winery and vineyard property. The property already had several acres of Cabernet Sauvignon and today the plants are more than 40 years old. Bruce continues to be the manager for the Doobie Brothers.
Bruce began reading and learning about grapes and planted more grapevines. Charlie Wagner in Napa Valley helped Bruce learn more about vineyards. Eventually Charlie made wine with Bruce's grapes. The results were successful. In 1979 more wineries were opening and Bruce sold grapes to other wineries.
President Reagan took wine produced from the Olive Hill Vineyard grapes to China. Bruce thought that if the wine was good enough for the President to take to China, he should start making his own wine. Bruce hired a winemaker and produced wine at other wineries in 1984, 1985 and 1986. It was not long before Bruce decided to produce wines onsite.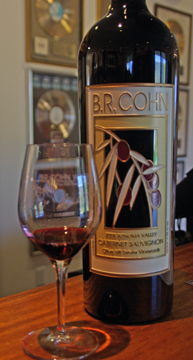 Wines
Bruce Cohn wants it known that the wines produced at B.R. Cohn are of consistent quality from the property. Grapes are also sourced from other vineyards. Frequently the wines are receiving 90+ points. Yearly production is about 80,000 cases.
Chardonnay 2010 was a straw color. The aroma had pear and vanilla nuances. The taste was smooth with pear, hints of caramel and vanilla. Sauvignon Blanc 2010, a pale yellow, offered tropical, lemon and melon notes. The crisp finish was fruity and lingered.
Pinot Noir Russian River 2009 was red to a dark pink color. The aroma was of light red berries while the taste had raspberry notes. The finish was crisp with light fruit and mild tannins. Primitivo 2009 from Shumaki Vineyard offered blackberry notes with mild tannins. Skyrzin 2008 was produced with an equal blend of Syrah and Zinfandel. The wine was a light ruby color and had cherry notes. The finish with tannins was fruity and chewy. Cabernet Sauvignon Olive Hill Estate 2008 offered an aroma and taste of cherry and black fruits. The finish with bold tannins was fruity and chewy. Cabernet Special Select Olive Hill Estate 2007 is not made every year. This wine was a dark ruby color. The aroma and taste offered currants and black cherry notes. The finish had bold tannins was fruit forward and chewy. Cabernet Sauvignon Port Olive Hill Estate 2008 had dark fruit notes including blackberries. It is more like a wine than a Port. The alcohol level at 18.5 percent had no heat on the finish. This is a delicious Port. People who do not care for Port should try this wine.
B.R. Cohn Winery supports several charities with charity events. Charities who benefit include Sonoma Valley Mentoring Alliance, Redwood Empire Food Bank, Sonoma Valley Education Foundation, Glide Memorial, Santa Rosa Memorial Trauma Center and Local & National Veteran Organizations.
Enjoy a visit to B.R. Cohn where you will discover quality wines, olive oils and vinegars.
B.R. Cohn Winery and Olive Oil Company
15000 Sonoma Hwy,
Glen Ellen, CA 95442
GPS: N38º 20.947' W122º 30.076'
---
Visit these California organizations and wineries that partner with Wine Trail Traveler.