Mendocino County Wine Region

Visit wineries in the world's greenest vineyard region. More vineyards in Mendocino County are sustainable, organic, biodynamic or fish friendly farming than any other vineyard area in the world. Many multi-generational family farms are located in the county some tracing their history back to the settlement in the county during the 1850's. There is a close connection between the earth and people that has led Mendocino County to become "America's Greenest Wine Region."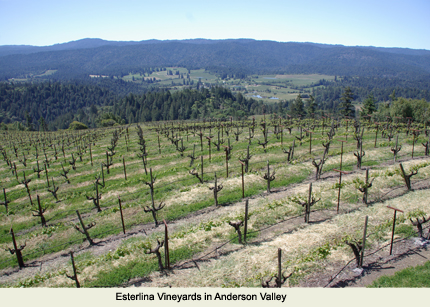 More than 340 winegrape growers grow grapes for over 100 wineries. Over 28% of the county's winegrapes are certified organic. The most common white varieties include Chardonnay, Sauvignon Blanc, Gewürztraminer, Viognier and Chenin Blanc. While the most common red varieties include Cabernet Sauvignon, Pinot Noir, Zinfandel, Merlot, Syrah and Carignane.
Mendocino County AVA's
Mendocino County is within the larger North Coast Appellation. There is also a Mendocino County Appellation. Within the Mendocino County Appellation there are approved AVA's.
Anderson Valley
Cole Ranch
Covelo
Dos Rios
McDowell Valley
Mendocino Ridge
Potter Valley
Redwood Valley
Yorkville Highlands
Cole Ranch is America's smallest AVA consisting of 189 acres.
Mendocino Ridge is not a contiguous land mass. It includes vineyards above 1,200 feet in elevation. When the fog fills the valleys these areas look like islands in the sky since most of the vineyards are above the fog.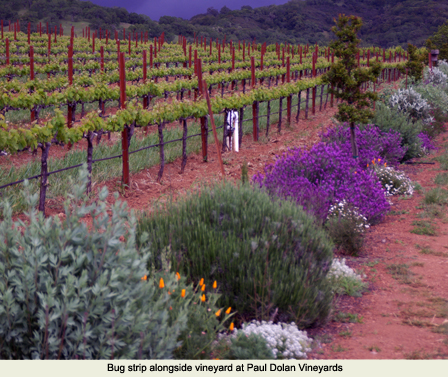 Wineries visited that are:
Demeter Certified Biodynamics
Frey Vineyards
Golden Vineyards
Paul Dolan Vineyards
Organic Certified
Barra of Mendocino Winery
Frey Vineyards
Golden Vineyards
Handley Cellars
McNab Ridge Winery
Parducci Winery
Yorkville Cellars
Fish Friendly Farming
Brutocao Vineyards
Husch Vineyards
McDowell Valley Vineyards
Navarro Vineyards
Nelson Family Vineyards
Roederer Estate
---
Visit these California organizations and wineries that partner with Wine Trail Traveler.