Maple Creek Winery and Vineyards
by
Kathy Sullivan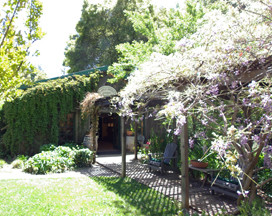 Summary: Maple Creek Winery located in the Yorkville Highlands AVA is owned and operated by a professional artist. Maple Creek Winery produces the wine brand Artevino. This is a friendly winery to visit. A sign in the tasting room says, "Come as strangers, leave as friends." Here the focus is on small lots of wine. According to Tom Rodrigues, owner, the wines are " fairly priced" and they are focused on quality.
Maple Creek Winery is a special winery to visit with its focus on art and creating wine. Artevino, a combination of art and wine, is the passion of the owners. Tom Rodrigues and Linda Stutz discovered the property in 2000 when it had a vineyard and a goat barn. They purchased the property in 2001. The winery is named for the creek that borders the property, Maple Creek.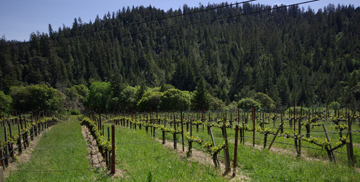 The vineyards consist of 10 acres of grapevines. Today the 10 acres of grapes include Chardonnay, Merlot and Symphony. Tom harvests 2.5 tons of grapes per acre. The owners are focused on sustainable farming practices. Any grapes sourced are from vineyards that use sustainable or organic concepts. The winery produces 3,600 cases.
Tom comes from a Portuguese fruit growing family and his father made wine. Tom became interested in wine after high school when he began collecting wine. He also was aware of buying futures and purchased wine futures based on the weather in France.
Tom has been an artist since a young teenager. When he was 14, he was apprenticed to a stained glass creator. His passion is for stained glass making but he is also renowned for his acrylic and oil paintings. One of his paintings is displayed in Cooperstown, New York at the National Baseball Hall of Fame. Tom is also the author of Legends at the Stick, a book with numerous baseball players and paintings. He currently is working on two commissioned pieces of art.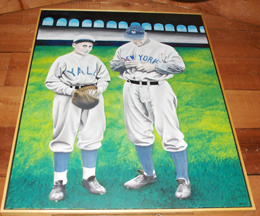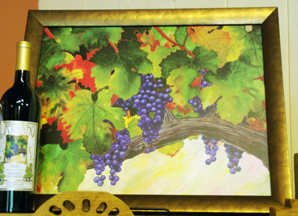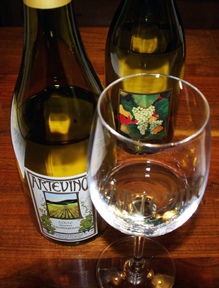 White Wines
Estate Chardonnay 2008 offered an aroma and taste of apple notes with a hint of citrus. The crisp finish had apple and caramel nuances. Reserve Chardonnay 2006 had pear and citrus notes with a crisp finish. Symphony 2008 was fermented dry in the barrel. The result was a wine with a floral aroma. The taste was of citrus especially orange and there was a perceived sweetness while the wine dried on the finish. Symphony 2007 was fermented in stainless steel. This wine with 1.2 percent residual sugar offered an aroma of floral and orange blossoms. The taste was reminiscent of oranges and sweet. The finish was sweet and fruity. Buckin' Blanco 2006 was a Chardonnay with 1.2 percent residual sugar. The nuances were of apple with a hint of citrus.

Red Wines
Pinot Noir 2006 was a dark purple color. The aroma was of red berries. The taste also had red berry notes especially raspberries. The finish had very mild tannins with a fruity aftertaste. Cowboy Red 2006 was a blend of Merlot, Zinfandel and Carignane. There were dark fruit and floral nuances especially violets. Zinfandel 2006 was a red/purple color with an aroma of perfume and plum nuances. The crisp finish was fruity. Merlot 2004 was aged in French oak for 30 months. The color was dark purple. The wine offered nuances that were earthy with black cherry. The wine finished with tannins and fruit. Cabernet Sauvignon 2005 was aged in French oak for 40 months. The aroma and taste were of blackberries. The finish was fruity with tannins.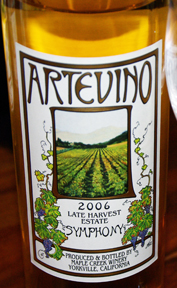 Dessert Wines
Late Harvest Estate Symphony 2006 was a dark yellow. The aroma reminds one of wild flowers while the taste was sweet with flower, peach and nectarine notes. The fruity finish was long and yielded to peaches after a few minutes. Late Harvest Zinfandel 2007 was a dark purple with aroma notes of raisins, plums and chocolate. There were nuances of raisins and plums on the taste. The crisp finish offered some tannins.
When visiting Maple Creek Winery, be sure to browse the artwork Tom Rodrigues has created and is displayed throughout the tasting room. Observe the artistic wine bottle labels all of which Tom created.
Maple Creek Winery
20799 Highway 128
Yorkville, California 95494

GPS: N38º 55.881' W123º 17.753'
---
Visit these California organizations and wineries that partner with Wine Trail Traveler.