Frey Vineyards
by
Kathy Sullivan
Summary: Frey Vineyards is a genuine large family owned and operated winery and vineyard located in Redwood Valley, California. They concentrate on organic and biodynamic processes on their land and in their winery. Frey Vineyards is certified by Demeter. To visit the vineyards, an appointment is needed. Most sales are wholesale and online.

Frey Vineyards produces organic and Biodynamic wines from their own vineyards. In the winery no sulfites or preservatives are added. Frey Vineyards is located in Mendocino County where there is a preponderance of organic vineyards and some Biodynamic vineyards. Frey Vineyards was the first organic winery in the US, opening in 1980. Today they produce 80,000 cases.
The Frey family was originally interested in creating and developing a vegetable farm. The original Freys, Paul and Beba, were doctors who purchased 99 acres of land near the Russian River. They started a farmers market in Ukiah and then turned to winemaking. Today four generations live on the farm. For the Frey family, it is a life style.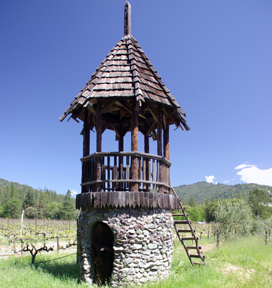 The Vineyards
The property covers 1,400 acres of land with 128 acres of vineyards that were certified by Demeter beginning in 1996. The vineyards and winery are located in the Redwood Valley AVA. A small tower in one of the vineyards provides scenic views of the vineyards and surrounding countryside. It is cooler here in the Redwood Valley than other parts of Mendocino County. The grapevines have just begun to leaf out. Thirty miles to the south in Hopland, the vines already had several inches of new growth. The Frey Vineyards property also encompasses cattle, horses, sheep, goats and chickens. Cattle are allowed to graze in the vineyard before leaves form on the grapevines. Cheddar cheese is produced from their milk. Animal manure is mixed with pomice and composted. The compost is added to the vineyard.
In the vineyards, grapes include Cabernet Sauvignon, Syrah, Petite Sirah, Chardonnay, Sauvignon Blanc, Zinfandel, Pinot Noir and Merlot. Every third row between the rows of thriving vines is planted with wheat. This wheat is harvested and used on the farm.

The Frey family is energetic and enthusiastic about producing quality wines using organic and Biodynamic methods. Organic farming must meet the Stellar Certification Services requirements to meet the Demeter Biodynamic standards.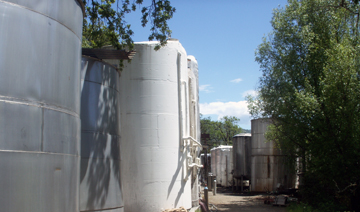 Winery and Wine Tastings
Large stainless steel tanks, some with cooling insulation, stand tall against the blue sky of a May morning. Many wineries have this scene. What is unnoticed is that Frey produces organic and Biodynamic wines. Frey Vineyards was the first organic winery in the country. No additional sulfates are added during the winemaking and bottling process. Today they produce 80,000 cases. Tastings are done with appointments only during the weekdays. Enjoy the tastings under Mendocino's deep blue sky with the sound of nature in the background.
White Wines
Chardonnay 2009, an organic wine, offered apple and pear nuances on the aroma and taste. The finish was crisp and fruity. Sauvignon Blanc 2009, an organic wine, had citrus notes throughout.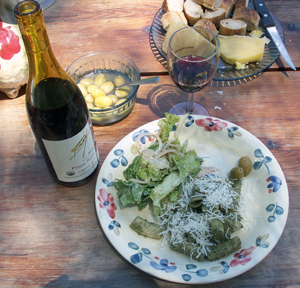 Red Wines
Pinot Noir 2009 was dark red with an aroma and taste of light red fruit especially strawberries and raspberries. The finish was fruity. Sangiovese 2008 was a dark red with an aroma and taste of cherry nuances. The finish was crisp with cherry notes. A most intriguing wine was the Charbono 2008. This wine reflected the smoke from the terrible Mendocino forest fires of 2008. There were definite aromas and tastes of fruit and smoke with smoke on the aftertaste. There were smoke nuances but they did not overpower the fruit. This is a good wine for some types of cheese and barbeque foods. It is also an interesting wine to taste to understand what air quality can do to grapes and the forthcoming wine. Dessertage 2002 is an organic dessert Port-like wine made from Zinfandel. It was fruity and jammy. This was paired with honeyed strawberries and a delightfully, sweet way to end our visit.
Anyone interested in purchasing Frey organic or Biodynamic wines can do so online. The Freys also sell their wines to wholesalers.
Make an appointment and enjoy a visit to Frey Vineyards where you will feel like family. Consider bringing a picnic lunch with you to enjoy at one of the picnic tables after your tasting.
Frey Vineyards Ltd
14000 Tomki Road
Redwood Valley, California
GPS: N39º 20.232' W123º 13.705'
---
Visit these California organizations and wineries that partner with Wine Trail Traveler.