Nelson Family Vineyards
by
Kathy Sullivan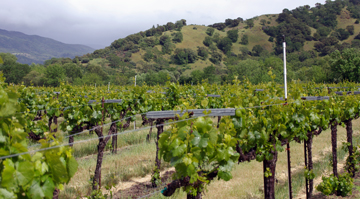 Summary: Nelson Family Vineyards concentrates on their vineyards and produces wines to showcase the quality of the grapes from their vineyards. Their motto is "Great wines are born in the vineyard." Wines produced are all estate.
The Nelson family purchased the property in 1952. The 2,000 acres of land is diverse and includes vineyards, a redwood grove, pears, olives, canola and Christmas trees. Ninety percent of the land is unplanted. Chris Nelson, winemaker, notes that, "We started as farmers and we are still farmers."
Chris was born into a winemaking family. However, he went on to earn his Bachelor's Degree and Master's Degree in Mechanical Engineering. After the dot-com bust, Chris decided to return home where his family had continued growing grapes since the 1950's and he decided to produce wine. For winemaking education and experience, Chris worked in Paso Robles and took courses at UC Davis. The Nelson Family Vineyards first vintage of their wines was 2003. They use the best grapes from their vineyards to craft small batches of wines.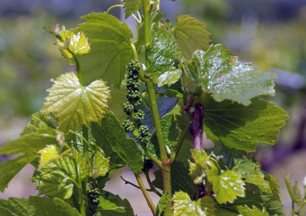 Vineyards
The Nelson Family Vineyards consists of 180 acres of vineyards with Pinot Noir, Chardonnay, Cabernet Sauvignon, Merlot, Zinfandel, Riesling Viognier, Pinot Grigio and Orange Muscat. The vineyards are part of the Fish Friendly Farming program in California. They also use sustainable and organic practices in their vineyards. Owl boxes are placed to attract the birds of prey. Chris believes that in today's market being able to sell organic grapes opens doors. Ninety-five percent of the grapes grown are sold to other wineries; the remaining grapes are used to produce 2,000 cases of wine that showcase what is possible to produce with the quality of grapes from the Nelson vineyards.

Tasting Room
The intimate tasting room can easily accommodate four guests at the tasting counter. A fireplace adds a touch of warmth to the room and a shelving unit artfully displays wine, clothing and wine glasses for sale. Tables and chairs are outside the room on the patio overlooking gardens and vineyards. On the day of our visit it was raining and the views, even with low-lying clouds were dramatic.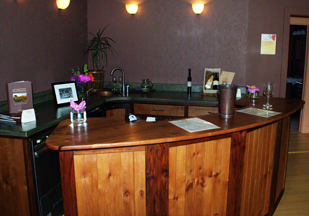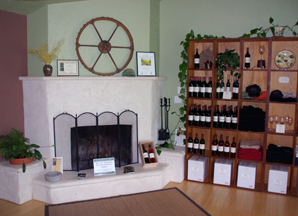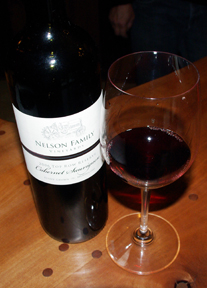 Red Wines
Cabernet Sauvignon 2007 had a bit of Merlot blended with the Cabernet. The result was a wine with blackberry and cedar notes. The taste had noticeable blackberry nuances. The finish was bold and fruity with tannins. Top Row Reserve 2006 was produced with Cabernet Sauvignon. The aroma offered blackberry and cedar nuances. There was dark fruit with a perceived sweetness from the very fruity taste. The finish was fruity with bold tannins. Zinfandel 2007 had dark fruit and spice with a hint of floral notes on the aroma. The taste also had dark fruit and spice notes. The fruity finish had a touch of heat and tannins.
White Wines
Viognier 2008, a light yellow wine, offered an aroma that was crisp and refreshing. The taste was fruity and the finish crisp. Suggested matchings included roasted chicken and full-flavored fish dishes. Riesling 2008 had an aroma that suggested a summer fruit salad. Suggested pairings for this slightly sweet wine (1.4 residual sugar) included spicy Asian, Cajun and Thai dishes. The aroma of the Orange Muscat 2009 makes one smile with its orange flowery notes. The summer fruit taste of peaches and nectarines was sweet. There were peach nuances on the finish. Lake Harvest Viognier 2008 had a residual sugar of 10 percent. This is a sweet treat. Chris suggests pouring this over vanilla ice cream.
The Nelson wines are available in Ukiah at The Bottle Shop and Fort Bragg at the Harvest Market. When shopping in other areas for wines look for wines produced from Nelson Family Vineyards.
Watch the Nelson Family Vineyards website for small concerts that are held in the redwood grove on their property.
Nelson Family Vineyards
550 Nelson Ranch Road
Ukiah, California
GPS: N39º 03.013' W123º 07.705'
---
Visit these California organizations and wineries that partner with Wine Trail Traveler.