Parducci Wine Cellars
by
Kathy Sullivan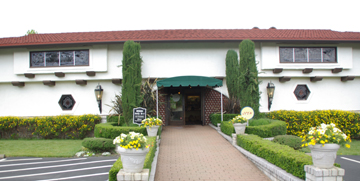 Summary: Parducci Wine Cellars wants and strives to be America's Greenest Winery. A tour of the winery facilities with one of the owners, Tim Thornhill reinforces this concept.
Tim Thornhill, Tom Thornhill and Paul Dolan own Parducci Wine Cellars. The focus is on sustainability. They strive to grow great grapes, support the community and protect the environment.
We enjoyed our visit at Parducci Wine Cellars with Tim Thornhill. He showed us and explained many of the ways in which the winery has been able to cut energy usage and been able to promote "green" practices in the winery and in the vineyards.
History
Adolph and Elizabeth Parducci purchased the land in the mid 1920's. During Prohibition they produced sacramental wine. They celebrated their 50th anniversary in 1982. Eventually the winery produced 400,000 cases of wine, but then decreased to 100,000 cases. With new leadership and new techniques Parducci Wine Cellars has increased production to 200,000 cases and are expecting to continue to grow. Currently the property consists of 340 acres that is farmed.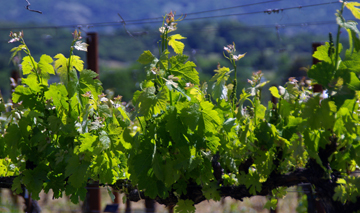 Decision Making
Tim believes in running the business on a triple bottom line: economics, environment and equity. The sequence follows: take care of me, take care of my family, take care of my employees, take care of my community, take care of the world.
Decisions are based on data driven evaluations. An example is watering the vineyard that is based on data rather than tradition. Water when the vineyard needs it. By doing so they were able to reduce water consumption and energy needs while increasing grape production. This resulted in better quality wine made with better grapes. Another data driven decision was the floor sweeping. Sweeping the floors with brooms and then washing the floors with reclaimed water uses less water than washing without sweeping. Reclaimed water can be used in the vineyards and winery. This has saved 5 million gallons of water.
Parducci Winery is the first winery in the United States to become carbon neutral. Data is used to calculate the winery's total climate-damaging emissions. Data driven decisions are then made to reduce their emissions internally. They then
take responsibility for their remaining emissions with investments in third party verified carbon credits.. For example, 100 percent of the energy is non-polluting green energy. They use solar from the onsite solar panels and purchase wind energy. Bio-diesel fuel is used in company vehicles and farm equipment.
Wetlands
A large section of the property has been set aside to recover 100% of the water that is used in the winery. Tim has facilitated the wetlands to recover the water. The water is now a thriving habitat for a variety of plants and animals including birds and turtles. Tim frequently monitors the water with a test kit to make sure that the water is meeting safety requirements.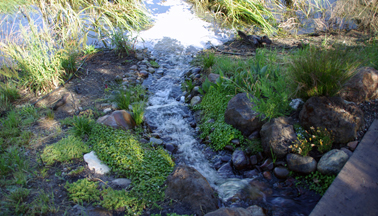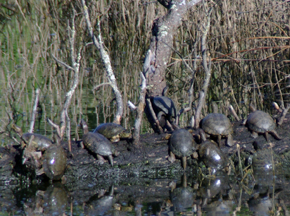 Vineyards
Parducci Wine Cellars farms 340 acres of vineyards. Of these 160 acres are biodynamic, 40 acres are organic transitioning to biodynamic, 60 acres are organic and Fish Friendly Farming certified and the remaining 80 acres are transitioning to organic and Fish Friendly Farming certified.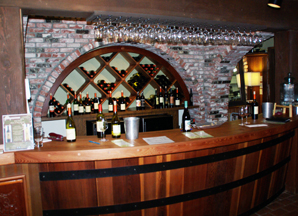 Tasting Room
Enjoy a visit to the tasting room in Ukiah, California. The tasting room is located in a white building with a red tile roof. A landscaped brick walkway leads to the entrance. Inside, visitors will discover the tasting staff is very welcoming. The tasting counter is composed of redwood barrel-like slats that face a brick wall with spaces inset for storage of wine bottles. Throughout the tasting room numerous items are available for sale including a large selection of books especially food books, clothing, glassware and food items. Take time to browse the selections while tasting wines. Adjacent to the tasting room is a room for a special tasting with a tasting counter. Enjoy browsing the artwork by Tommy Thornhill that is available for sale in this room.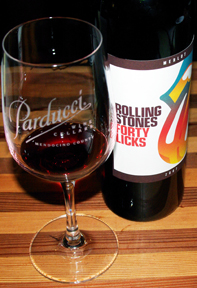 Wines
Chardonnay 2008 offered an aroma of green apple with an apple taste. The finish was crisp and fruity. Petite Sirah 2006 was a dark purple with a light purple rim. The aroma and taste had nuances of dark fruit. The fruity finish was crisp with bold tannins. Grenache 2005 was purple with dark fruit notes on the aroma and taste. There were tannins on the finish. Pinot Noir 2008 offered spice notes on the aroma with red fruit nuances on the taste. The finish was fruity with mild tannins. Coro Mendocino 2005 is a blend of Zinfandel, Petite Sirah and Grenache. The wine is a dark purple. The aroma was of dark berries. The taste offered dark berry nuances with hints of plum and blackberries. The finish was crisp and fruity with mild tannins. Cabernet Sauvignon 2005, Wines that Rock had an aroma of dark fruit with cedar nuances. There were blackberry notes on the taste. The finish had bold tannins. True Grit 2006, a Petite Sirah, had a dark purple color with a light purple rim. The aroma was of dark fruit and spice. The taste was of dark fruit especially notes of blackberries and spice. There were bold tannins on the fruity finish.
In addition to making wine at Parducci Wine Cellars, Paul Dolan also makes wine under his name with grapes from his vineyards. The Paul Dolan line of wines can be tasted in the Parducci Tasting Room.

Parducci Wine Cellars can serve as the example of what a winery can do to protect the environment and save energy. Every winery can do something as simple as sweeping the floor to save water up to those who can create a wetland to reuse water. If you are in a position to do it, check out Parducci Wine Cellars and see how they are protecting the environment for generations to come.
Parducci Wine Cellars
501 Parducci Road
Ukiah, California 95482
GPS: N39º 11.979' W123º 12.768'
---
Visit these California organizations and wineries that partner with Wine Trail Traveler.