Jaxon Keys Winery & Distillery
by
Kathy Sullivan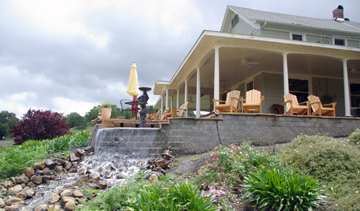 Summary: Jaxon Keys Winery & Distillery is located in Hopland, California. The tasting room is in a renovated farmhouse and has a wraparound porch for visitors to enjoy. Diane and Ken Wilson own Jaxon Keys and several other California wineries.
The Jaxon Keys tasting room is located in an 1858 farmhouse. It was named Burnee Hill, which is Scottish meaning "house on the hill." John McGlashen 1818-1895 and Anna Pope McGlashen Gambrel were the original owners of the property. Originally the property was a sheep ranch with 1,250 acres of land. The winery was built in 1983. Numerous wooden chairs line the wraparound porch. At one corner a waterfall adds a natural sound to this serene setting where visitors can view the vineyards and countryside.
The décor in the tasting room artfully matches the era of the house. The wooden-topped tasting counter resembles furniture of the time period. Wines and brandies are tastefully displayed throughout the room.
Today Diane and Ken Wilson own the winery. The name for the winery is for their grandfathers Jack Wilson and Cecil Keys. Vineyards including Syrah, Zinfandel, Chardonnay, Sauvignon Blanc, Viognier, French Colombard, Petite Sirah and Granache.
The winery located in a facility about 200 yards from the tasting room produces 4,000 cases. At the time of our visit, some of the barrels were stored in a wooden frame wine rack reminiscent of a Bourbon ageing warehouse at distilleries in Kentucky.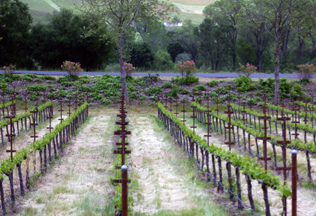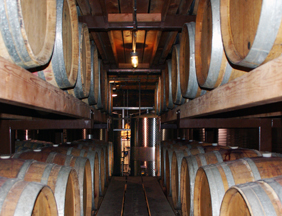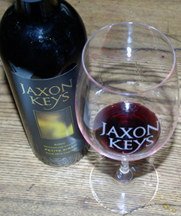 White Wines
Sauvignon Blanc Cecil Keys Vineyard 2008 was produced using 100 percent stainless steel. There were some tropical nuances on the nose while the taste was of citrus with tropical notes. The crisp finish was fruity. Sauvignon Blanc McGlashen Reserve 2008 had nuances of summer grass and tropical fruit. The wine finished crisp with citrus notes.
Red Wines
Petite Sirah 2007 was a dark purple. The aroma was floral and had dark fruit notes. There were dark fruit notes on the taste. The wine finished with tannins and dark fruit nuances. Cabernet Sauvignon 2007 offered blackberry nuances throughout with tannins on the finish.
The Distillery

Fred Nickel, the winemaker, had successfully produced wine at a nearby winery before moving to Jaxon Keys. He joined Jaxon Keys in 2009 and is now producing wine and brandy. The still, a 15th century Alambic Pot, is located in a building on the other side of the winery. Fred now makes three different brandies under the Jepson label. These three brandies are Rare, Old Stock and Signature Reserve. Rare is aged for 7 to 10 years, Old Stock aged for 12 to 14 years and Signature Reserve 17 to 18 years. There is no topping off but rainwater is added to keep the brandies at a certain alcohol level due to the alcohol increasing as some of the brandy goes to the angel's share. From 2,000 gallons of wine that is about 12 percent alcohol, this Alambic still can make 380 gallons of brandy. Once the still reaches operating temperature, it offers a warm respit from the winter's cold.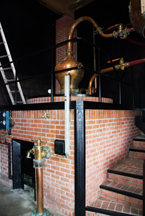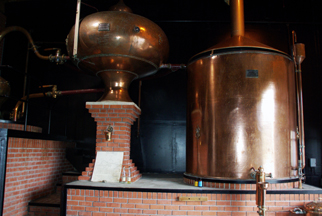 Enjoy tasting wine in this 19th century farmhouse with an extensive outdoor seating area including a large wraparound porch. Visitors are encouraged to bring a picnic lunch and enjoy a glass of wine.
Jaxon Keys Winery & Distillery
10400 South Hwy. 101
Hopland, California
GPS: N39º 00.826' W123º 07.705'
---
Visit these California organizations and wineries that partner with Wine Trail Traveler.