Esterlina Vineyards and Winery
by
Kathy Sullivan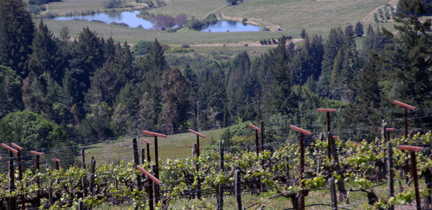 Summary: To visit Esterlina Vineyards & Winery in Philo, California visitors need to make an appointment. The experience is wonderful as visitors are treated with beautiful views from a tasting balcony overlooking vineyards and countryside. Enjoy beautiful vistas of the Anderson Valley and hills. Esterlina is a family winery with the Sterling family involved in the vineyards, winery and marketing.
Esterlina Vineyards & Winery established in 1998 is a family owned winery and vineyard. The vineyards are 40 years old. Mario Sterling and his four sons, professionals in their own right, operate the winery and vineyards. Eric, an emergency room doctor, is the winemaker. Chris is the vineyard manager and Steve is in charge of marketing. Craig is the general manager. Esterlina is Spanish for Sterling.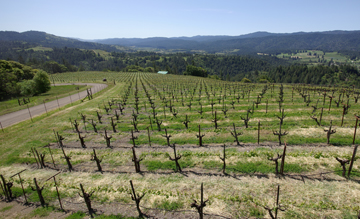 Currently the winery has about 13 acres of grapes at the Philo site consisting of Pinot Noir and Chardonnay. It produces 5,000 cases of wine. Located at 1,200 feet elevation the vineyards do not experience frost. Some grapes are sourced. The Cole Ranch vineyard also in Mendocino provides Merlot, Cabernet Sauvignon and Riesling. Cole Ranch with 189 acres is the smallest AVA in the United States.
Visitors to the tasting room in Philo need to schedule an appointment. This is definitely a winery to visit with beautiful vistas of mountains and overlooking Anderson Valley. Tastings take place on a deck overlooking the valley. A breeze and plenty of sunshine are a delightful way to enjoy a wine tasting. Anyone who enjoys snacks of the salty type will enjoy a tasting here, as a dish full of various crackers and cheese puffs are included with the tasting. Plan to spend some time for your wine tasting. It is hard to leave.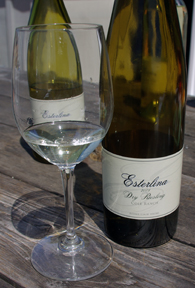 White Wines
Sauvignon Blanc 2008 was almost clear. The aroma offered green apple hints with grass and tropical fruit. The crisp finish offered fruity nuances. Dry Riesling 2008 Cole Ranch had an aroma and taste of apple with peach notes. The finish was crisp and dry.
Red Wines
Pinot Noir Anderson Valley 2007 was produced with wine from this site. The aroma and taste were of red fruit especially cherries and red raspberries. The crisp fruit finish yielded to spice nuances. Pinot Noir Anderson Valley Reserve 2007 offered an aroma and taste of raspberries. The finish began with fruit notes and yielded to spices notably cinnamon. Merlot Cole Ranch 2005 had an aroma and taste of cherries. The wine finished with tannins and cherries. Chardonnay 2007 had an aroma of apple with a hint of oak. The taste included nuances of apple and caramel. The finish was crisp. Pinot Noir 2006 Russian River had raspberry notes on the nose and taste. The finish was crisp and fruity. Syrah 2006 was a reddish-purple. There were cherry nuances on the taste. The finish was sweet. Mario's Gran Rojo 2006 was a blend of Cabernet Sauvignon, Merlot, Syrah and Petite Sirah. Cabernet Sauvignon 2006 Alexander Valley offered blackberry nuances on the nose and taste. The finish offered bold tannins.

Wine Club
At Esterlina Vineyards, wine enthusiasts can choose from four Wine Club options. These options include Enophile, Wine Aficionados, Pinot Cravers and Pinot Fetishists. Each option includes wine four times a year. The number of bottles varies from three to twelve bottles. More information is available on Esterlina Vineyards website.
When planning a visit to Esterlina Vineyards, call for an appointment. Wines are also available for tasting at their Everett Ridge Vineyards and Winery in Healdsburg, California. The Everett Ridge Vineyards tasting room is open daily.
Esterlina Vineyards & Winery
1200 Holmes Ranch Road
Philo, California 95466
N39º 08.256' W123º 30.166'
Everett Ridge Tasting Room
435 West Dry Creek Road
Healdsburg, California 95448
---
Visit these California organizations and wineries that partner with Wine Trail Traveler.