Roederer Estate
by
Terry Sullivan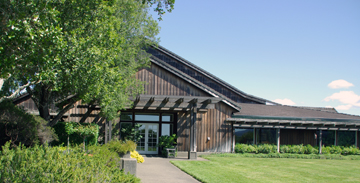 In 1982 Jean-Claude Rouzaud established a vineyard on a 580-acre parcel near Philo in Mendocino County. Jean-Claude Rouzaud was the fifth generation descendant of the founder of Champagne Louis Roederer. Today, Frédéric Rouzaud, sixth generation, continues the family tradition of producing sparkling wines.
The Philo location is in the Anderson Valley AVA. Less than twenty miles from the Pacific Ocean, the vineyard experiences warm days and cool evenings. These ideal conditions are good for growing Chardonnay and Pinot Noir, the two varietal grapes grown onsite. In addition to this Mendocino County facility, the Roederer Group has facilities in France and Portugal.
From the parking area a pathway leads past landscaping to the tasting room. Behind the counter, windows overlook the landscaping and the vineyards. Visitors can enjoy tasting several sparkling wines.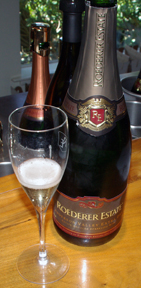 Sparkling Wines
Roederer Estate uses the initials MV for multi-vintage rather than NV for non-vintage. They believe that the NV gives a negative impression to some whereas the MV is more positive.
The Brut MV had an aroma and taste of apples. The finish was fruity. Brut Rosé MV was a blend of Pinot Noir and Chardonnay. It had a very light peach color and offered a burst of citrus. It dried on the finish. The Brut Rosé Magnum MV was the same as the Brut Rosé MV however bottled in a magnum 1.5 liter bottle. The different sized bottle influences the sparkling wine differently. The color was a light peach a bit darker than the Brut Rosé MV. The sparkling wine in the magnum had a creamier mouthfeel and offered a fruity crisp finish. The Extra Dry MV was a light yellow. The apple aroma and taste finish dry with a lingering apple aftertaste.
The 2002 L'Ermitage Brut was a vintage sparkling wine that had an apple aroma with an apple aand baked bread taste. Another vintage sparkling wine tasted was the 1996 L'Ermitage. The aroma was of caramel and green apples while the taste was citrus and green apple. It had a creamy mouthfeel and and fruity finish.
If you are interested in trying some sparkling wines stop by Roederer Estates.
Roederer Estate
4501 Highway 128
Philo, California 95466
GPS: N39º 06.551' W123º 29.919'
---
Visit these California organizations and wineries that partner with Wine Trail Traveler.