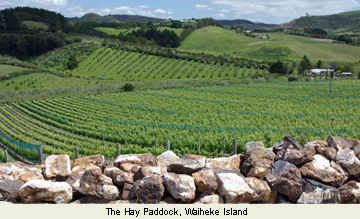 Walk into most wine stores and one will discover wines from New Zealand. For a country that has a very small percentage of the world's vineyards and wine production, New Zealand has made its presence known to wine enthusiasts. If asked about the varietal grape that does well in the country, Sauvignon Blanc will be the first grape mentioned. One can find New Zealand Sauvignon Blanc in wine shops throughout the world. Another grape variety of note is Pinot Noir. New Zealand's cool climate that makes its Sauvignon Blanc world-class also helps propel Pinot Noir to world-class. Other grape varieties include Chardonnay, Gewruztraminer, Pinot Gris, Riesling, Semillon, Merlot and Syrah. Other varieties with smaller plantings are also growing in New Zealand's vineyards.
Regions
There are ten wine regions in the long narrow country. From the north to the south, the wine regions include:

Northland
Auckland
Waikato/Bay of Plenty
Gisborne
Hawke's Bay
Wellington
Nelson
Marlborough
Canterbury
Otago
The three regions with the most wineries are Auckland, Marlborough and Otago with over 100 wineries in each region. The most grape growers and hectares of vineyards are in Marlborough.
Statistics
Like many wine regions throughout the world, New Zealand experienced rapid growth during the decade from 2000 to 2009. The number of wineries in the country increased from 358 in 2000 to 643 in 2009 an 80 percent increase in the ten year period. The number of wineries has increased to 688 in 2010. At one time a new winery was added to the list every fourteen days. That pace has slowed down though. Vineyards increased at a more rapid rate. In 2000 there were 10,197 hectares (25,197 acres) while by 2009 vines were planted on 31,964 hectares (78,984 acres) representing a 213 percent increase. There are 33,000 hectares (81,545 acres) in 2010. Wine production increased from 60 million liters to 205 million liters. Similarly exported wine increased from 19 million liters to 113 million liters. No wonder one can find New Zealand wines in many wine shops. Although New Zealand wine is exported throughout the world, the vast majority of exports are to Australia, the United Kingdom and the United States.
History
The first grapevines were planted by missionaries during the 1800's. British resident, James Busby, established a vineyard near Waitangi in 1836. He made wine and sold it to British troops. During the 1800's and 1900's there were ups and downs in the winemaking industry. From 1890 to 1910 a period of growth was witnessed. This was tempered by challenges such as phylloxera, powdery mildew, Prohibition and imported wine. New Zealand's answer to phylloxera was to plant American hybrids. In 1960, the American grape, Isabella was the country's most widely planted vine. French vinefera grapes were planted in the later part of the 20th century. However, New Zealand's abundant rainfall posed challenges to the ripening of the fruit. Dr. Richard Smart was the government viticulturist between 1982 and 1990. During his tenure he educated growers about canopy management. As a result higher quality wines were made. Vineyard site management also had a positive affect on the quality wines.
Related articles on Examiner.com National edition
Gimblett Gravels, the land no one wanted, produces premium grapes article
New Zealand's Hawke's Bay Wine Region article
Two Waiheke Island wineries release fine wines article
Waiheke Island: New Zealand's bucolic wine region article
---