Destiny Bay
Vineyards
by
Terry Sullivan

Summary: Destiny Bay's ten different vineyard blocks were planted beginning in 2000 with five traditional Bordeaux varieties. The Waiheke Island location offers weather that is ideally suited for grape growing. It is never too hot or cold. Gentle breezes blow through the vineyard and a little rain helps produce excellent grapes.
On their first visit to New Zealand, Ann and Mike Spratt fell in love with with the country. Mike recounted that on their second visit, they asked friends where to live if they moved to New Zealand. One of their friends suggested that they move to Waiheke Island and plant grapes. Ann and Mike are from California and had some experience in wine grape growing. Upon inspecting possible locations on Waiheke, a beautiful spot was located. After research and expert consultations a vineyard was planted.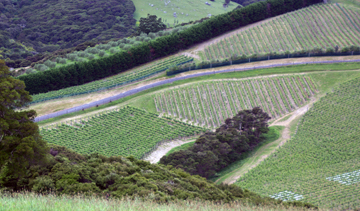 Vineyard
Today 6½ hectares (16 acres) are under vine. Planting is dense with 13,000 vines. Cabernet Franc, Cabernet Sauvignon, Malbec, Merlot and Petit Verdot are planted on steep vineyard slopes. The thriving vineyard blocks are shaped like an amphitheatre around the winery facility. Underneath a thin layer of topsoil is a meter thick layer of Aeolian sediment that challenges the vines. During the dryer summer months, the soil cracks. Grapevine roots follow the cracks downward searching for moisture and then during the winter the wet soil expands and naturally prunes the roots. Planted in 2000 and 2001, the vines are now producing excellent grapes used to make fine wine blends. Temperature variations between daytime highs and nighttime lows are moderate. This allows for an extended ripening period enabling the Bordeaux grapes to achieve peak physiological ripeness, balanced levels of sugar and acid, and optimal flavors and aromas. For Destiny Bay, fruit set is usually in late November and early December.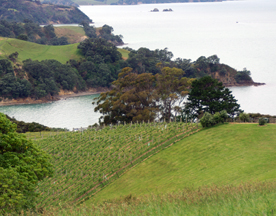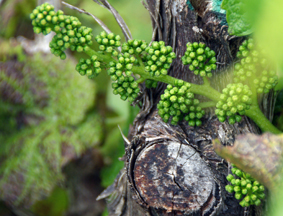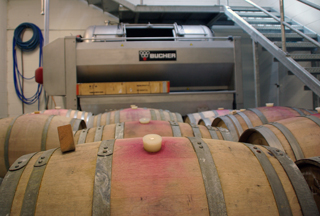 Winery
The grapes are hand picked and placed in containers and then taken to the centrally located winery facility. It takes only minutes for all of the harvested grapes to reach the facility. Grapes are sorted several times eliminating damaged grapes, under ripe grapes, stems and jacks. Grapes are gravity assisted to the fermentation room. During the fermentation process, the must is closely monitored. After fermentation the wine is pressed and fractions are separated and barrel aged for nine to twelve months. Wines are blended and then placed back into barrels for further aging. After bottling the wines are aged for another two years before they are released to consumers. During the complete process in the winery, precise notes are kept. Mike compared these notes to a doctor's patient chart. Everything is recorded in complete detail for each barrel of wine. The winery produces about 2,000 cases of fine Bordeaux-style blends.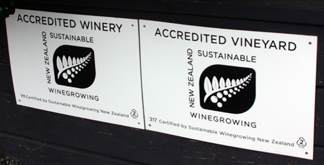 Sustainability
Both the Destiny Bay vineyard and winery are certified sustainable by the Sustainable Winegrowing New Zealand®. The carbon footprint is reduced by practices in the vineyard and winery and the spray program for each vineyard block is carefully monitored.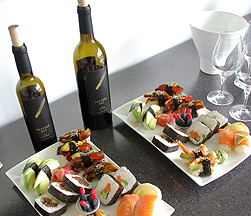 Wines
The wines are blends of classic Bordeaux grape varieties. The 2007 Mystae had a dark ruby color. The blend was 55% Cabernet Sauvignon, 26% Merlot, 11% Cabernet Franc, 6% Malbec and 2% Petit Verdot. Black fruit and licorice was on the aroma and taste. The finish had medium soft tannins and was fruity. The name of the blend, Mystae refers to alchemists of Greek mythology. The 2008 Destinae was a ruby colored blend of 39% Cabernet Sauvignon, 29% Merlot, 16% Malbec, 15% Cabernet Franc and 1% Petit Verdot. The dark fruit aroma and taste had earthy nuances. There were medium soft tannins on the crisp, fruity finish. The name Destinae refers to the meaning of destiny as a goal to achieve. Both wines offered a taste that reflected this special place. As Mike said, "The wine is the way the land talks to us."
Destiny Bay is a member of The Specialist Winegrowers of New Zealand. This six member group specializes in making fine wines from a single variety grape or style.
Destiny Bay is open by appointment only. If in the Auckland area, take the ferry to Waiheke Island. The short ferry ride offers a view of the Auckland skyline and islands as you approach Waiheke. In addition, Destiny Bay wines can also be tasted at the Cellar Door at The Hay Paddock where wine enthusiasts can also taste wines from all The Specialist Winegrowers of New Zealand.
Destiny Bay Vineyards
379 Gordons road, RD 1
Waiheke Island, Auckland,
1971 New Zealand
+649 372-9300
www.destinybaywine.com
---