Brancott Estate (Montana)
by
Kathy Sullivan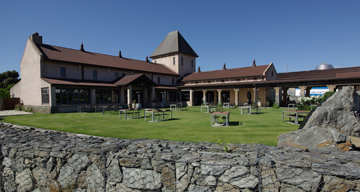 Summary: Brancott Estate winery, an immense-size winery, has also been known as Montana Wines. It is clear that with such a large and successful winery, organization plays a key role in operating. Even with thousands of vineyard acres and producing millions of cases of wine, visitors will experience a friendly welcome to the Cellar Door and restaurant.
Once known as Montana Wines, the winery was renamed Brancott Estate. Some of the thousands of acres of vineyards are located on Brancott Road.
Brancott Estate produces 3.5 to 4 million cases of wine each year. One million of these cases are the classic Sauvignon Blanc. This vintage will provide 40,000 tons of Sauvignon Blanc, that accounts for about 30 percent of the New Zealand wine industry. Pernod Ricard UK owns this winery, the largest winery in New Zealand. Brancott Estate has 20 winemakers on the winemaking team for all of their winery locations.

Brancott Estate Vineyards
The vineyards consist of 3,000 to 3,500 hectares (about 7,500 acres) of grapevines. More vineyards are contracted with other growers. Brancott Estate understands vineyard blocks and designates certain vineyard blocks to go into certain wines. Climate here has a bigger impact on Sauvignon Blanc than soil type. Currently they are conducting research on Sauvignon Blanc aromas and finding differences in the aroma from vineyard block to block.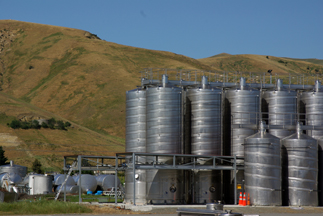 Winery
The winery has a Pinot Noir tank room. This is where 1/3 of the red wine production takes place. The winery makes use of different sizes of tanks. Three rooms have tanks with 4,000 gallons capacity filled to the rim. In addition they have 10,000 gallon barrels available that lay on the side. Many of the tanks are outside and offer a contrast to the hills in the background. Several tanks have a tipping capability. These special tanks are primarily used for producing Sauvignon Blanc. The winery produces many wine varieties. Some of these are very small productions, about 300 cases. Others may be as much as one million cases.
Patrick Materman, Chief Winemaker and our guide, noted that New Zealand people drink more sparkling wine than anywhere in the world. We began our wine tasting with a sparkling Sauvignon Blanc.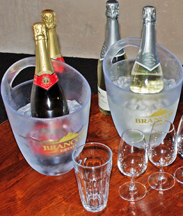 Sparkling Wines
Brancott Reserve Sauvignon Blanc Sparkling, a straw color, offered tropical fruit nuances on the aroma and taste. The finish was crisp. Deutz, a blend of Chardonnay and Pinot Noir was a pale yellow. There were apple and pear notes on the aroma and taste. The wine finish was crisp.
White Wines
Stoneleigh Sauvignon Blanc Marlborough 2010 was a light straw color. The aroma offered tropical fruit notes while the taste had tropical fruit with flint nuances. The finish was fruity. Brancott Estate Marlborough Sauvignon Blanc 2010, a straw color had tropical fruit notes with herbal hints. The taste was of tropical fruit. The finish was of tropical fruit yielding to herbal notes. Sauvignon Gris 2010 was a Bordeaux white grape. The aroma and taste offered herbal and tropical fruit notes. The crisp finish offered a long, fruity aftertaste. Riesling 2010 had a floral aroma and taste. Slightly sweet the taste had a smooth mouth feel.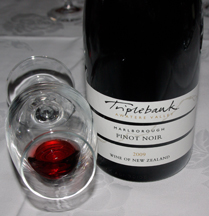 Red Wines
Pinot Noir Triplebank 2009, a ruby color wine, was produced from handpicked grapes. It had cherry notes on the aroma. The taste also had cherry notes with earthy nuances. There were mild tannins and hints of cherries on the finish. Brancott Estate Terraces Pinot Noir 2008 had an aroma and taste of cherries. The wine finished with medium tannins and cherry notes.
Cellar Door (Tasting Room)
The cellar door with a high ceiling, a wood tasting counter and leather seats around a fireplace offers an elegant spot to enjoy tasting Brancott wines. A circular table has several cylinders of wine aromas. Visitors should take the time to smell the aromas in each cylinder. On the second floor special rooms are set aside for group tastings. One room had three long tables with white tablecloths, a ceiling of old wood, a copper chandelier, fireplace and subdued wall lighting.
Brancott Estate Restaurant
The restaurant is adjacent to the tasting room. The ceiling is primarily wood with ceiling fans. Seating is provided inside or out. A meal might begin with freshly baked artisan bread with dipping oil. On the day of our visit we had a choice of entrées including a large Caesar salad with a poached egg or Turkey Fillets. Desserts available include mixed berry cheesecake with a sauce and Trio of Parfait. The Parfait description was "Tamarillo, coconut and vanilla bean between layers of sugar caramelized filo wafers with a balsamic berry compote."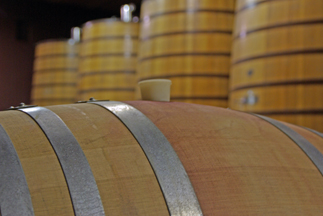 When planning a visit to Brancott Estate winery in Marlborough, take time to enjoy lunch or dinner in the onsite restaurant.
Brancott Estate
State Highway 1
Riverlands, Blenheim
New Zealand
---