Finger Lakes Wine Region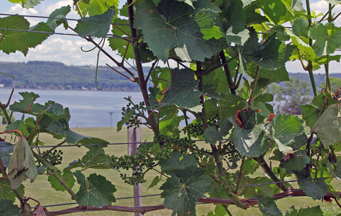 One of the easiest wine regions to drive from one winery to another is the Finger Lakes Wine Region in New York. Look at a map of the state and you will notice a group of long narrow lakes that resemble fingers. Along most of these lakes there are numerous wineries. The majority of wineries are centered around four of the larger lakes: Cayuga Lake, Seneca Lake, Keuka Lake, and Canandaigua Lake. Riesling is the king of grapes in this region. You will often see flags noting Riesling at winery entrances.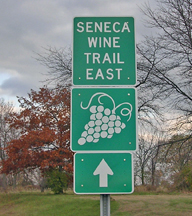 The Finger Lakes has some of the best signs for marking wine trails and wineries in the country. Many of the wineries are located on just a few roads that follow the lakes on both the east and west sides of the lakes. There are wine trails set up to promote the wineries along the larger lakes. Note that not all the wineries along the lakes are members of a particular wine trail. As you drive pass you will notice some wineries not on a wine trail map.
Quick Facts
Acres of Vineyards: 9,393
Wineries: 100+
Growing Season: 190 - 205 days
Grape Production: Over 40,500 tons
Finger Lakes Wine Festival: every summer

American Viticultural Areas:
Finger Lakes AVA
Cayuga Lake AVA
Seneca Lake AVA
Wine Grapes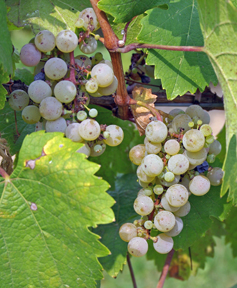 European Grape Varieties
Chardonnay
Gewurztraminer
Riesling (pictured)
Cabernet Franc
Cabernet Sauvigon
Gamay
Lemberger
Merlot
Pinot Noir

French-American Hybrids
Cayuga White
Melody
Seyval Blanc
Vidal Blanc
Vignoles
Traminette
Baco Noir
Chambourcin
Chancellor
DeChaunac
Marechal Foch
Rougeon
Native American Varieties

Catawba
Concord
isabella
Vincent
Delaware
Diamond
Niagara

Ancient and Old Varieties from the country Georgia
Rkatsiteli
Saperavi

Wine Trails
Canandaigua Wine Trail
Cayuga Lake Wine Trail
Keuka Lake Wine Trail
Seneca Lake Wine Trail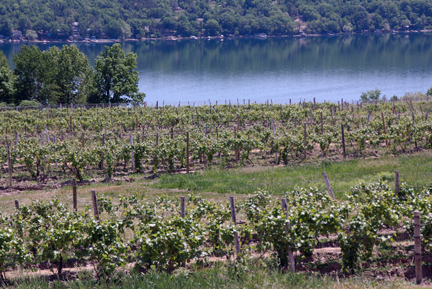 New York Wine & Culinary Center
The New York Wine & Culinary Center is in Canandaiqua, New York. This remarkable wine and culinary center emphasizes the agricultural products of New York State including wine. We recommend a stop at this interesting hands-on center. In addition to the many wines to taste, the center offers numeruos culinary classes, a bistro, an educational theater and a boutique gift shop.
Wine enthusiasts will want to return to the Finger Lakes many times to enjoy the wines, views of the lakes and the ambiance!
---