Anthony Road Wine Company
by
K.L. Sullivan
When you visit Anthony Road Winery, be sure to visit the educational garden. By walking a short distance, you'll observe the grape varieties that Anthony Road uses to make wine. With a variety of wines in the tasting room, there is something for everyone.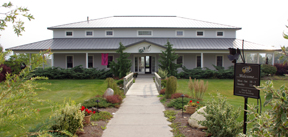 Ann and John Martini established Anthony Road Winery in 1989. When the winery opened in 1990, it was one of twelve wineries in the area. However, the seeds of the winery began back in 1973, when the Martinis first planted grapevines. Again, in 1975, they planted more grapes. Grapes were sold to the Taylor Wine Company and other wineries. Starting with 2000 cases in 1990, this year they will produce 16,000 cases of wine. Plans call for expanding and promoting vinifera grapes.
Selling wine began in a small barn they built near their current site. Today they are in a large tasting room designed by John Martini.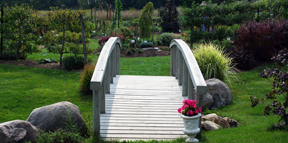 Currently the winery has 67 acres of grapevines with 27 acres in the immediate area. Four tons of grapes on average are harvested per acre. The only grapes used are from their vineyards and other local vineyards. Currently their son, Peter, is the manager of the vineyards. Whenever they are in need of help, other family members come to help.
Outside of the tasting room, near the winery is an educational garden. Here you will find colorful displays of perennial flowers and a small vineyard. Plants are well labeled and maintained by a volunteer.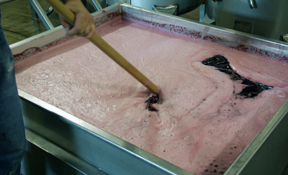 The winemaker at Anthony Road is Johannes Reinhardt from Franconia, Germany. His philosophy is that the quality of a wine is developed in the vineyard. The winemaker can fix some things but you will know it. Friendly and passionate about winemaking, Johannes was in the process of chaptalization (a process of adding sugar) to a red juice. A member of a German family who has been producing wine since the 1400's, Johannes said there was pressure on him to be a winemaker. However, he broke with tradition by coming to America to be a winemaker. "There is a freedom in America to try things as a winemaker not that you have to though." Johannes sees wine as an art. "If you take 10 winemakers and give them the same supplies to make wine, you will have 10 different wines."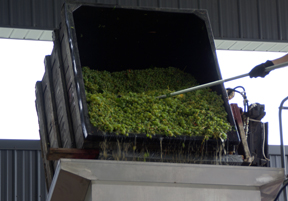 While visiting the winery, grapes were crushed. Outside the winery building on the crush pad, a forklift raised a large crate of grapes and dumped it into the crusher/de-stemmer. Grapes and juice were separated from stems and a few leaves. A narrow conveyor belt carried the resulting
crushed grapes to the press. A balloon-like bladder in the press inflated with air to gently crush the grapes. The juice flows through tiny slits in the press. Pressed juice was collected in a large container under the press and pumped into a tank.
Anthony Road encourages volunteers. They like to offer incentives for volunteers. If you are interested in helping at the winery or vineyard, give them a call.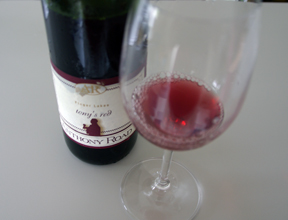 Before leaving Anthony Road Winery, we stopped back in the tasting room to try several of their wines. The large tasting room has a white U shaped tasting counter. Nearby displays of giftware are available. On the wall, the winery displays acrylics on canvas paintings by Orlando Lopes. Accessories include wine glasses, food items including wine jellies and stemware racks.
Pinto Gris has a floral nose. It is crisp with a citrus fruit flavor and is light bodied. Dry Riesling has a floral nose and intense fruit flavor with a long fruit aftertaste. Rosé is a Cabernet Franc that is crisp with a nice balance of fruit and acid with a long fruit aftertaste. Semi-dry Riesling has a floral nose, fruit taste and aftertaste. Tony's Red is produced from Rougeon It has a fruit flavor with 3.3 residual sugar. However, Tony's Red does not seem that sweet as it has a nice fruit, acid and sugar balance.
Tierce is a unique wine. Three winemakers from the Finger Lakes area decided to participate in making a wine. Johannes from Anthony Road, Peter Bell from Fox Run and David Whiting from Red Newt worked together to create Tierce. The word Tierce means 1/3 of a wine barrel. Tierce has a floral nose with a crisp tropical fruit flavor. The acid readily helps to cleanse the palate.
If you are not able to visit Anthony Road Winery near Seneca Lake, perhaps you can visit them in New York City. On Saturdays, a display is set up at the Union Square Green Market.
Anthony Road Wine Company
Penn Yan, New York
GPS N 42° 42.306 W 076° 58.443
---