Lamoreaux Landing Wine Cellars
by
Meghan Anne Neumeier

Photos by
Andy Neumeier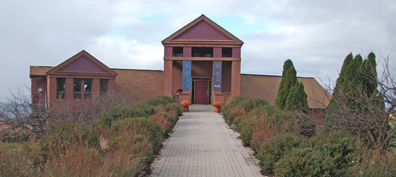 Summary: Lamoreaux Landing Wine Cellars is an estate winery in Lodi, New York, and is a member of the Seneca Lake Wine Trail. The winery, which opened in 1992, features a modern interior design and elegant wines. Visitors may feel as though they are guests at an art museum social function as they take in the panoramic views of Seneca Lake and admire the artwork on the winery walls, all the while sipping Lamoreaux Landing's award-winning wine.
Lamoreaux Landing Wine Cellars was founded in 1992 by Mark Wagner, a cousin of the Wagner family that owns Wagner Vineyards, also on the eastern side of Seneca Lake. Mark grew up working with grapes, and spurred by the Farm Winery Act, he decided to make his own wine instead of solely supplying grapes to other wineries.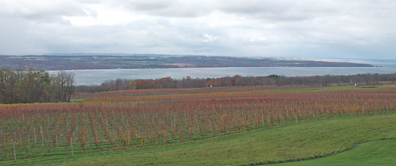 Lamoreaux Landing owns 105 acres of producing vines; 30 of these acres are devoted to Riesling. Other grape varieties planted in the vineyards include Gewürztraminer, Chardonnay, Muscat, Vidal Blanc, Pinot Noir, Cabernet Franc, Cabernet Sauvignon, and Merlot. Three of Lamoreaux Landing's Rieslings - Round Rock, Yellow Dog, and Red Oak - are single-vineyard Rieslings and are named after the vineyards where their stories began.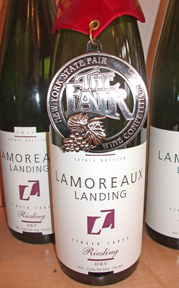 The Round Rock Riesling is pale yellow in color with a citrus scent and fruit-forward flavor. It is dry, creamy, and smooth. The Yellow Dog Riesling is translucent, light, and complex. It has a spice-laden aroma and a citrusy nose and flavor. The Red Oak Riesling is pale yellow with a floral, mineral aroma. It is fruity and creamier than the other single-vineyard Rieslings. Other wines made at Lamoreaux Landing include a 2008 Chardonnay, the 76 West blend from 2010, a 2011 Moscato, and 2009 Riesling Ice wine, among others. The 2008 Chardonnay won the Best Overall Chardonnay in New York award at the New York State Wine and Food Classic in 2011. This wine is aged in oak and steel. It is light yellow in color; buttery and oaky in scent; and smooth, fruity, and well-balanced. The 76 West is a blend of Cabernet Franc, Merlot, and Cabernet Sauvignon. It is dark red in color and has an earthy aroma and bold tannins with hints of berries. The 2011 Moscato is geared towards sweet wine drinkers. This spritz wine is translucent and has a sweet and floral aroma. Its pear flavors pop in the mouth. The 2009 Riesling Ice is the color of straw and contains notes of honey, fresh baked bread, and raisins on the nose. It is rich and creamy and tastes like liquid candy. Some of Lamoreaux Landing's most popular wines are the Dry Riesling, the Semi-Dry Riesling, the 2008 Chardonnay, and the 76 West. The winery produces 12,000 cases of wine a year.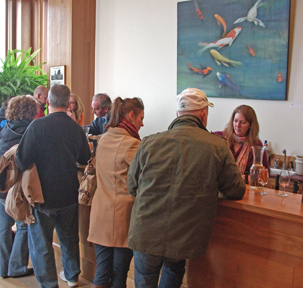 Lamoreaux Landing's high ceilings, modern style, displayed artwork, and tall windows make the interior of the winery memorable. The tall windows afford visitors panoramic views of Seneca Lake and let in ample amounts of light. The winery is divided into two tasting rooms, one formal, the other flexible in arrangement. A small gift shop sells photos, oil, vinegar, cheese, sauces, books, and wine glasses.
Events held at the winery include case club member gatherings, wine education functions, and food pairings. Lamoreaux Landing also hosts the Annual Winemakers' Dinner, which celebrates the end of the harvest in the fall.
Lamoreaux Landing Wine Cellars was the recipient of the Wine and Spirits Magazine Winery of the Year Award in 2010 and again in 2012. Standard tastings cost $4, and speciality wine tastings cost an additional $2 each.
Lamoreaux Landing Wine Cellars
9224 State Route 414
Lodi, NY 14860
---