Hunt Country Vineyards
by
K. L.Sullivan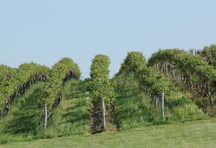 Hunt Country Vineyards is representative of what a family working together and a can-do attitude can create. Beginning in 1973, the Hunt Country vineyards began growing wine grapes on 60 acres. Taylor/Great Western Wine Company purchased the wine grapes. When Coca-Cola purchased Taylor/Great Western Wine Company, the company moved operations to California. Those Finger Lake vineyards that sold their wine grapes to Great Western, no long had a market for grapes. Art and Joyce Hunt made the decision to experiment with producing wine. Although they had not made wine before, they decided to try it on a small scale and began with "homemade" wine. Successful with "homemade" wine they began to produce wine commercially. Today Hunt Country Vineyards has accomplished its goal of producing consistent world class wines from Finger Lakes grapes.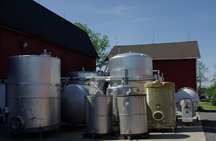 With 171 acres of farmland, grapevines cover 55 acres. Starting in 1981 and producing about 2000 gallons of wine, today the winery produces and sells more than 20 different wines. Currently, Hunt Country produces ten thousand cases a year with a capacity for 25,000 cases. Art and his wife are the fifth generation of Hunts to live on the property. Their son Jonathan as the sixth generation now works full time in the operation. In the future, Jon and his fianceé Caroline will work on an experimental vineyard on the property testing organic practices on new grape varieties. The entire farm currently practices sustainable farming methods which include minimizing chemical usage and composting grape seeds and skins.
Part of the winery is located in an old renovated barn. At the time of the renovation, aged wood beams were exposed. The government in their area had little experience with small family wineries and told Art and Joyce to cover the exposed beams. Today the exposed beams are acceptable, as we have seen at other wineries converted from old barns.
Near the tasting room is a large grape arbor. Art pointed out that in another month grape leaves would cover the top and no light would be able to penetrate.
When we asked what they would like the public to know about them, without hesitation they said they would like people to know they are a very approachable and friendly winery, offer tours daily and they have won over 40 gold medals in recent years including three for their current Cabernet Franc, Riesling and Seyval Blanc wines.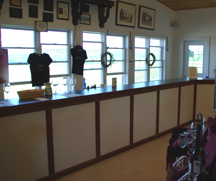 The tasting room is large with a long tasting counter. Plenty of space is available for walking around the themed displays of gifts. Bonnie Barney, a retired teacher, has "art talent with business sense," according to Joyce. Artistically arranged on tables are gifts and accessories throughout the tasting room. "Each table is a work of art." Visitors are inspired to buy gifts and accessories.
Hunt Country produces more than twenty wines including a Sparkling Chardonnay and a true Vidal Blanc Ice Wine 2005. The 2005 ice wine is sold out but the 2006 ice wine will be available in July.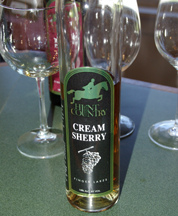 Among the wines we tasted were Riesling, Pinot Gris, Meritage, Cabernet Franc, Port and Sherry. The dry Riesling has a nice floral bouquet and the semi-dry Riesling has a floral bouquet with a long aftertaste. Pinot Gris is dry with fruit and refreshing acid. Meritage is dry, with red fruit flavor and soft tannins and would be a good food wine.
Art tells the story that when they went to visit his Swiss-born grandmother for a special dinner such as Thanksgiving, Christmas or Easter, everyone would have cream sherry before dinner. Hunt Country Vineyards proudly makes a cream sherry out of the Seyval Blanc grape.
Art and Joyce continue to plan for the future of the winery. Art discussed the possibility of hosting concerts on a grassy amphitheater near the tasting room and between acres of vineyards. Art and Joyce are both very active in their community. Art and their son are volunteer firefighters. Art deals with the regulatory and legal issues of owning a winery. Joyce is a founding member of Keuka Lake Wine Trail. She is very involved with wine events and public relations. With active and knowledgeable winery owners like Art and Joyce, anything is possible.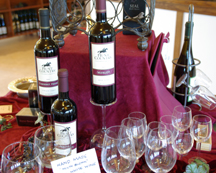 The Hunt Country Vineyards was one of the early wineries in the area. They have been early forerunners in learning how to begin a winery from "scratch." Today a guide is available for those interested in beginning a winery. However, when the Hunts began their winery, they did not have this information and much of what they did and learned was from firsthand experience. These are the people to ask about how to start a winery because of their experiences.
Hunt Country Vineyards is a lovely winery to visit. Located in the charming countryside and with numerous fine wines to taste, we believe you will enjoy your visit.
Hunt Country Vineyards
Branchport, New York
---