My California Wine Appellation Specialist course continued this week with the content focusing on the appellations within San Luis Obispo County. For this class I opened a bottle of the 2009 Illuminatus that Kathy and I made with grapes we sourced from Paso Robles. Our first wine for this week was a Grenache from the Edna Valley AVA.
Qupé sources fruit from the Sawyer Lindquist Vineyard in the Edna Valley AVA of San Luis Obispo County. Qupé winemaker, Bob Lindquist along with Louisa Sawyer Lindquist planted the vineyard in 2005. In 2009 the vineyard and winery were certified biodynamic by Demeter. I tasted the 2011 Edna Valley Sawyer Lindquist Vineyard Grenache. The wine was a blend of mostly Grenache at 87% with 13% Syrah, from the same vineyard, added. The 13.5% alcohol wine costs $35 from the winery website.

This translucent red Grenache offered floral, cherries and spices on the aroma and taste. There was no sediment in the glass. The medium-bodied wine was dry. The wine had low tannins and medium acidity. I would give the wine a personal rating of 3.5 out of 5. The wine is a bit pricy for a Grenache,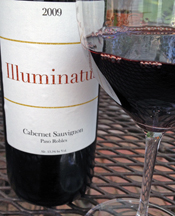 My second wine was my 2009 Illuminatus a 100% Cabernet Sauvignon from Paso Robles AVA. The 13.5% alcohol wine was crafted at Vint Hill Craft Winery in Vint Hill, Virginia. We sourced the grapes from Arciero Vineyard. The grapes were harvested and placed in refrigerated trucks, then shipped across the country. The wine is not for sale. You can view the wine's sep page at.
The opaque dark ruby Cabernet Sauvignon had aromas and flavors of blackberries, cassis, blueberries, black raspberries and a little cedar. This full-bodied wine was dry with medium-high acid and medium-high tannins. I would give the wine a rating of 4.5 out of 5.0. That rating may be a bit biased; however, my brother likes this wine and compares it to Caymus Cabernet Sauvignon. My earlier review of a Caymus Cabernet Sauvignon had a rating of 4.5 out of 5.0.
Cheers,
Terry