A Wine Journey
A Wine Journey
Authors: Terry and Kathy Sullivan
Publisher: Infinity Publishing
Price: $12.95 paperback
Copyright: 2012
ISBN: 978-0-7414-8045-3
Pages: 165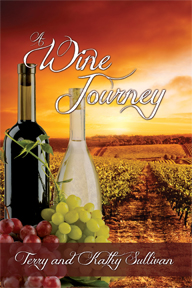 Millions of people drink and enjoy wine. How and when they came to an interest in wine is varied. For some, their wine journey may have started early, for example learning to walk holding on to a Grandfather's pant leg as he tends the barrels in the family winery. Others may come to wine while working in a restaurant and wanting to better inform patrons about the wine list. People in many countries see wine as a food to be enjoyed when eating. A wine journey may come later in life, as is the case for the authors, Terry and Kathy Sullivan. Anyone can go on a wine journey. All that is required is an interest in wine.
A Wine Journey looks at the trek of the authors as they learned about wine in different venues. The book continues with Terry's and Kathy's attempts of making wine, both at home and at wineries. At the time of the book's publication, Terry's and Kathy's journey recalls experiences they had while visiting and writing about over 850 wineries. Discover how they accidently came to the wine world, found the ambiance of tasting rooms and learned about forgotten grape varieties. Travels took the authors to three continents. Along the way, they decided that if they were going to write about wine, they should also make wine. A Wine Journey describes their winemaking experiences, as it takes a behind the scene look at the winemaking processes both at home and at wineries.
Readers will discover winery heartrending stories of loss and stories of triumph and camaraderie. Anyone can follow the same journey whether it involves wine learning, winemaking or wine travel. A Wine Journey will help you to know what you are missing by driving past all of those winery tasting rooms. Readers discover wine learning options, winemaking possibilities and wine travel destinations. Readers will realize that the authors are ordinary people who share their wine experiences. The readers can have the same experiences. A Wine Journey offers an abundance of ideas that wine enthusiasts will enjoy. Discover the Sullivan's journey in A Wine Journey, then go out and start or continue your wine journey.
Contents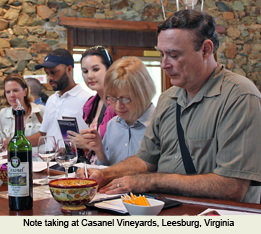 Introduction
1. Our Early Wine Experiences
2. The Wine Journey Becomes Serious
3. Discovering the Many Roads to Wine Knowledge
4. Birth of a Winemaker
5. Making Wine at a Winery
6. Tin Lizzie Wineworks Cabernet/Merlot
7. Winemaking Journey Continues
8. Foreign Wine Travel Experiences
9. Agritourism
10. People We Met Along the Journey
11. Stories Along the Way
12. Memorables
13. Camaraderie Trumps Competition
14. Romance
Epilogue: The Continuing Wine Journey
Appendix: Wine Century Club
Acknowledgements
ISBN 978-0-7414-8045-3 Paperback
ISBN 978-0-7414-8046-0 Hardcover
ISBN 978-0-7414-8047-7 eBook
Purchase

Wine Trail Traveler Online Bookstore