California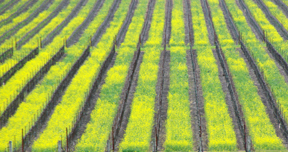 California is well known for its acres and acres of vineyards and production of wine. California wines placed well in the 1976 Judgment of Paris, which sent shockwaves across the wine world. About forty percent of the wineries in the United States are located in California. The state has 90 AVA's from the northern to the southern part.
A variety of wineries large and small, old and new have tasting rooms open to the public. Each winery has a special, unique wine perspective. Plan your visit to wineries in advance. With nearly three thousand wineries to visit, and some requiring reservations, it is easier to visit wineries by planning ahead. If you are not able to visit California at the height of the season, a visit in February can be a delightful experience. Napa in February showcases rolling hills filled with grapevines and bright yellow mustard, it is a picturesque sight. Napa wines have world-wide recognition. Many of the wineries require appointments to visit and charge tasting fees. Neighboring Sonoma wineries offer unique wineries many with a long family history of making wine in Sonoma County.
To the north of these famous wine regions, Lake County is a hidden jewel and Mendocino County has more organically and biodynamically vineyards than anywhere in the world. Lake County's higher elevation produces ripe grapes and well rounded wines. Views from the vineyards are stunning and often Clear Lake can be seen in the distance. You'll see very old vines while visiting wineries in Mendocino County. More and more farmers are taking to the call to farm organically or biodynamically. It is not unusual to see flora between the grapevine rows or sheep and goats controlling the weeds. Many of the grapes produced in Lake County and Mendocino County go to wineries in Napa and Sonoma. Similarly, grapes produced in the Suisun Valley are sent to Napa and Sonoma. There are a handfull of wineries in Suisun Valley and many vineyards.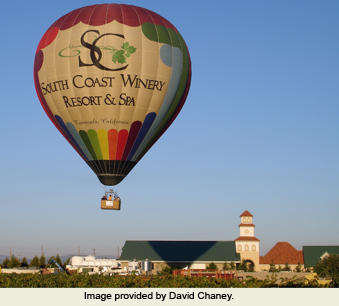 Although smaller in area and numbers of wineries, the Temecula wine region in Southern California offers fantastic weather, rolling hills, and the friendliest winemakers and owners in the world. The wine region is a 60 - 90 minute drive from San Diego and Los Angeles. Not only is the region easily accessible to over twenty million people, it is also easily accessible to people throughout the United States with several airports close by. Several of the wineries have on-site restaurants with outdoor seating.
Adding to photogenic opportunities are the many hot air balloons you may observe. Some of the wineries have their own hot air balloons.
With forty percent of the nation's wineries, California is a state that you can visit over and over. Many of the regions offer accommodations close to and even on vineyards.
---
Visit these California organizations and wineries that partner with Wine Trail Traveler.