North Carolina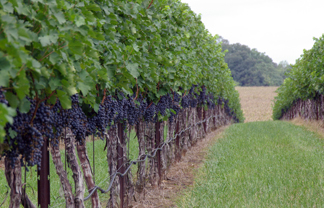 North Carolina has more than 200 wineries and vineyards with tasting rooms. Many of these opened their doors during the 2000's. However, winemaking in North Carolina is not a new venture. In 1835, Medoc Vineyard led the nation in wine production. Prior to Prohibition, North Carolina led the country in wine production. Today the wine industry in North Carolina is rebuilding and offers a promising future. In 2006, it was ranked 10th in the nation for wine production.
The state can be divided into three grape growing regions. The Mountain region to the west has numerous wineries and has a designated appellation: the Yadkin Valley. The Piedmont region is in the center of the state. Both the Mountain and Piedmont regions have plantings of Vitis vinifera grapes and hybrids. Common varieties of the Vitis vinifera grapes planted include the white grapes Chardonnay and Viognier as well as the variatal reds: Cabernet Franc, Cabernet Sauvignon, Merlot and Syrah.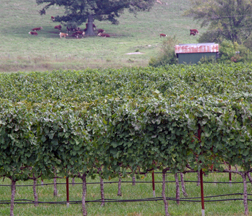 The Coast region lies to the east and is home to the Native American grape family: the Muscadine sometimes referred to as Scuppernong, Vitis rotundifolia. These grape varieties are very popular both now and historically. They were the first Native American grapes to be made into wine. Research seems to indicate the positive health benefits of the Muscadine grapes such as ten times the amount of antioxidants as red wines. Keep an eye on further research studies to see if the claims are substantiated.
The varietal Scuppernong is the official grape of North Carolina. The oldest known Scuppernong vine is on Roanoke Island, North Carolina and is 400 years old. It is believed to be the oldest vine in the country.
Yadkin Valley was North Carolina's first AVA. Within the Yadkin Valley AVA a new appellation was designated in 2008. The Swan Creek appellation currently has five wineries and about 130 acres of vineyards.
---
Visit this North Carolina Winery