Grove Winery
by
K.L. Sullivan
January 2009 update:

Since we visited Grove Winery in 2007, numerous changes have occurred in the winery and vineyards. Max Lloyd added Malbec, Symphony and Viognier to their other wines and currently produces 3000 cases of wine. Vineyards in North Carolina increased from eight acres to eight and half acres while their acreage in Virginia continues with three acres of grapes. Grove Winery is now producing wine for three labels – Chinqua Penn Vineyards, Four Oaks and Ashevilla.
In November 2008, a 2000 square foot addition to the winery was opened with a special ribbon cutting ceremony. According to Max, "John Gladstone, the tasting room manager gives tours of the winery." 
In an email interview, Max wrote, "Grove has recently released it's first handful of reserve wines from the excellent 2007 vintage.  The Ensemble is a Bordeaux blend aged 100% in French oak barrels.  The Reserve Cabernet Sauvignon is 100% estate grown and can hold it's own against Cabs from Napa and Sonoma costing many times more." 
---
Summary: Located near Greensboro, North Carolina, Grove Winery participates in the Haw River Wine Trail. Grove Winery is a new winery that offers tasting, tours and events.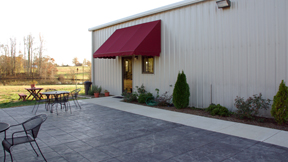 Grove Winery opened in December of 2003 with its first vintage made from grapes harvested in 2002. However, they had been growing grapes since 1993. The winery is located on 44 acres.
The vineyards provide about 80 percent of the grapes used for wine. Eight acres of grapes are on the North Carolina site while another three acres are on their Virginia property. Planted on the North Carolina estate property are Merlot, Nebbiolo, Sangiovese, Cabernet Franc, Chardonnay, Traminette and Tempranillo. To the north in Virginia near Smith Mountain Cabernet Sauvugnon and Norton are planted. Today Grove Winery produces between 3000 and 3500 cases of wine.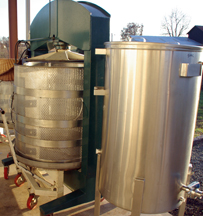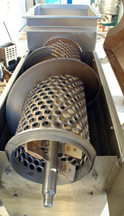 Ben Snyder, the tasting room consultant gave us a tour of the winery. A large patio area, at the tasting room entrance, is used for events during the warmer months. Several large stainless steel tanks are in the winery and French, Hungarian and American oak barrels are aging wines in another room. There is room for additional barrels, if stacked. Outside the tank room is the crush pad. Ben showed us the inside of the crusher destemmer and a vertical press. In addition to producing the Grove Winery wines, the winery also produces wines for Chinqua Penn Vineyards and Four Oaks labels.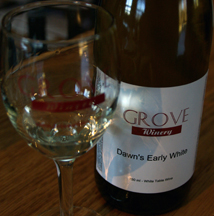 Currently the wines produced under the Grove Winery label are mostly dry red and whites. On the day of our visit we tasted several wines. The best selling wine is Haw River White. This is a blend of Chardonnay, Chardonel and Sauvignon Blanc. It is dry with oak and apple on the nose and a taste of apple and butter. There is an oak aftertaste. Dawn's Early White is made from 100 percent Pinot Grigio. It has a fruit nose, citrus fruit flavor followed by an oak. Fifty percent of the Pinot Grigio was aged in stainless steel and fifty percent was aged in oak.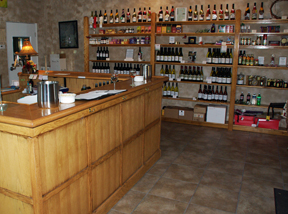 Claret, currently sold out, is one of the best selling red wines. It is a blend of Cabernet Sauvignon, Merlot, Cabernet Franc, a little Tempranillo and Sangiovese. It has a fruit flavor with a red cherry aftertaste. Nebbiolo and Sangiovese are two popular Italian grapes grown on the Grove Winery estate. Nebbiolo is crisp, fresh and fruity with very soft tannins. White wine drinkers may enjoy this red wine. It is a food friendly wine. Sangiovese has a red cherry nose with a red cherry taste and soft tannins. It is also a food friendly wine that sells well. Strawberry is also a popular wine produced from locally grown strawberries. With a strong strawberry flavor, it is not syrupy sweet. This won a double gold at the North Carolina State Fair.
Grove Winery has numerous events including paddling trips, open houses, dinners and artist promotions. On a rotating basis, an artist is featured every two months. During November and December of 2007, the featured artist is Beverly Eckard. Another unique idea is the bicycle maps available. Bring your bike, choose the map by the distance you want to travel and after your bike ride return to the winery to enjoy a glass of wine.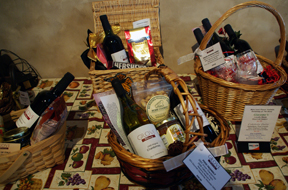 Gift baskets are available. These can be wrapped upon purchase. Visitors have the opportunity to choose different items to put in the baskets.
Grove Winery offers the perfect spot to relax and have a glass of wine. It is a new winery and vineyard with a promising future. Those who live close by should consider joining the Grove Winery Connoisseur's Club. The one time membership fee is very reasonable and there is a list of benefits including free tastings in the tasting room and discounts on purchases.
7360 Brooks Bridge Road
Gibsonville, NC 27249
Winery & Vineyard: 336-584-4060
Fax: 864-752-4882
GPS N 36d 13.118 W 079d 33.275
For more information about Grove Winery.
---
Visit this North Carolina Winery