Shadow Springs Vineyard
by
Kathy and Terry Sullivan

Summary: Shadow Springs Vineyard, with its stone walls and landscaping, reminds one of a mini castle. The large pond and vineyards on the property add to the ambiance of a visit to the winery and tasting room.
Chuck and Jamey Johnson started Shadow Springs Vineyard while living in Nebraska. For the Johnsons this is a second career. Chuck had dreamed and successfully worked to retire early after spending many years traveling for business. After living in Nebraska they decided to move to North Carolina. Several years prior to moving to North Carolina, Chuck micro-managed purchasing land and planting a vineyard.
Chuck brainstormed and thought of the name Shadow Springs while he was on his tractor in North Carolina looking at the creek that feeds into the nearby pond.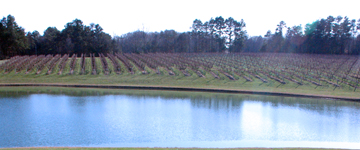 Vineyards
From the winery tasting room facility, visitors can view a man-made lake. Across the lake vineyards gently slope toward the water. Today the Johnsons have an established vineyard with 10.5 acres of Viognier, Chardonnay, Seyval Blanc, Merlot, Cabernet Franc, Cabernet Sauvignon, Petit Verdot and Chambourcin. They also source a few grapes from growers in the Swan Creek AVA. The vineyard looks immaculate and even on a late November day provides a majestic view.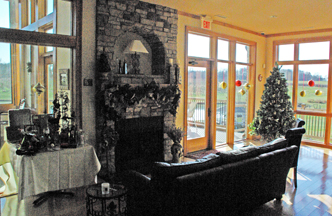 Tasting Room
Visitors will discover a friendly tasting room with beautiful views of the lake, vineyard and surrounding countryside. Large windows provide plenty of light. A small deck is available for visitors to enjoy a glass of wine. Guests are allowed to bring a picnic lunch to enjoy with a glass of Shadow Springs' wine. A leather sofa in front of a fireplace adds to the warmth the room offers with wood tones from maple, cherry and oak. An enclosed sunroom is especially cozy on an autumn day. Wherever one sits, the vineyards are a focal point providing a gentle reminder of where the wine starts becoming crafted.
A section of the tasting room offers gift selections including cork cages of different shapes. On the lower level, a large finished tasting room with an adjacent patio is available for large groups and weddings.
Events
In addition to hosting weddings, Shadow Springs has other events including Murder Mystery Dinners and Holiday Open Houses. Private events include weddings, parties and business events.
White Wines
The tasting counter is made of maple wood. We tasted several wines with Chuck and Jamey. Visitors have an option to use standard stemware or Riedel stemware. We used the Riedel stemware for our tasting. The 2008 Barrel Fermented Chardonnay was a dark yellow color that was fermented in new and used French oak barrels. The aroma was of pear, apple and caramel. The taste had apple, pear and a hint of citrus. The finish was crisp with fruit yielding to butter. Viognier 2010 was a light yellow with a very floral aroma. The taste was of yellow stone fruit. The finish had apricot on the aftertaste yielding to lime. Seyval Blanc 2010 was produced using a stainless steel tank. The light yellow wine offered a dry smooth taste with a hint of sweetness from the fruit. L'Amour Doux was a sweet wine with 15.6 percent residual sugar. The taste was smooth and full-bodied and the finish reminded one of a mouthful of sweet pie.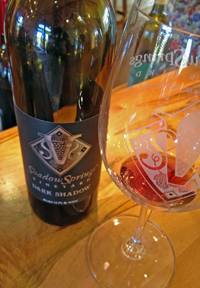 Red Wines
Chambourcin 2008 was a light ruby color with an aroma of berry fruit. The taste of was blackberry fruit. The crisp, fruity finish had tannins. Meritage 2007 was a blend of Cabernet Franc, Cabernet Sauvignon, Merlot and Petit Verdot. The color was a dark ruby and the taste was of dark fruits. The crisp finish had bold tannins with dark fruit and licorice notes.
Specialty Wines
Shadow Springs produces a strawberry wine, Shortcake. With 11 percent alcohol the aroma reminds one of strawberry shortcake. The taste was dry and very strawberryish. Strawberries lingered on the finish. Dark Shadow was a blend of Merlot, Cabernet Franc, Cabernet Sauvignon, Petit Verdot, Seyval Blanc with dark chocolate added. The aroma offered chocolate notes and the taste had chocolate and cherry notes. Holiday Shadow is a blend of these two wines. Customers requested the blend. They would often buy the Shortcake and Dark Shadow and blend the two together.
Enjoy a delightful visit to Shadow Springs Vineyard after visiting their sister winery, Windsor Run Cellars.
Shadow Springs Vineyard
5543 Crater Road
Hamptonville, North Carolina 27020
GPS: N36º 05.788' W80º 51.086'
Article written in December 2012
---
Visit this North Carolina Winery