Round Peak Vineyards
by
K.L. Sullivan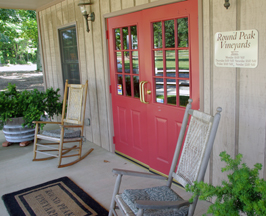 Summary: Enjoy a visit to Round Peak Vineyards in Mount Airy, North Carolina. The mountain vistas include Saddle Mountain, Fisher's Peak and Round Peak. The tasting room is friendly and makes wines approachable. Enjoy your visit.
Round Peak Vineyards was the brainstorm of two couples enjoying a glass of wine together while vacationing in California. The owners, Susan and George Little and Janet and Lee Martin, purchased 32 acres in 1999. Today the winery produces 1200 to 1500 cases of wine from 12 acres of grapevines at an elevation of 1300 feet. The vineyards included Sangiovese, Nebbiolo, Merlot, Cabernet Sauvignon, Cabernet Franc and Chardonnay.
On the day of our visit, the weather was beautiful with the sun shining and a light breeze. In the distance beyond the tasting room, white netting covered several rows of vines, protecting them from ravenous birds and hungry deer. Farther on one can view Saddle Mountain, Fisher's Peak and Round Peak.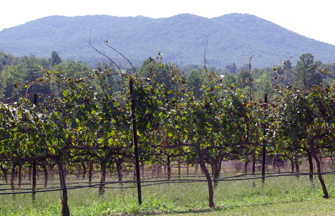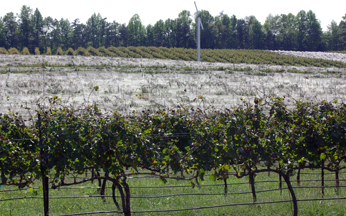 Inside, the tasting room has an inviting atmosphere. The interior of the tasting room has two reddish walls and two yellow. The colors match the floor tiles. A large window in one wall looks into the barrel room where a staff member was busy punching down the must. They punch down three times a day. This helps to develop color, aroma and flavor in the juice.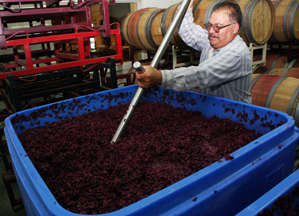 Wine related items offered to the public include bottle coolers, grape-shaped candles, horizontal wine bottle bags made of canvas, logo hats and aprons
We learned from Zana, the tasting attendant that the vines were planted in 2000 and the vines began producing in 2002. At this point, they sent the grapes to another winery for a custom crushing. In 2003, the Round Peak Vineyards opened the tasting room and completed the winery in 2005.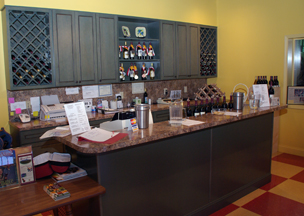 We discovered the Chardonnay 2005 to have an aroma of oak and vanilla with a taste of apple and tropical fruit. The finish was crisp and fruity. Fiddler's Red, named for Tommy Jarrell – a renowned fiddler from the area, was a blend of Cabernet Franc, Merlot and Cabernet Sauvignon. The aroma and taste had cherry notes. The finish was crisp with very mild tannins. Nebbiolo 2005 had an aroma and taste of red berries, notably cherry and raspberries. The finish was very crisp with soft tannins. Reserve Sangiovese 2006 offered an aroma of red cherry and pepper with a taste of red cherry and spice. The finish was crisp with soft tannins.
Round Peak Vineyards
765 Round Peak Church Road
Mount Airy, North Carolina
GPS N 36° 49.990' W 80° 76.814'
---
Visit this North Carolina Winery