Stony Knoll Vineyards
by
Kathy Sullivan

Summary: Stony Knoll Vineyards is located on property that has been in the family for more than a century. The tasting room is elegant. Van Coe focuses on creating red wines but also has white and sweet wines. Weddings frequently take place at Stony Knoll Vineyards.
The property of Stony Knoll Vineyards has been in the family for more than 100 years. The land is part of the North Carolina Century Farm program. Van Coe had an epiphany. He wanted to use the property, which at one time had been a tobacco farm, for something other than traditional farming. The state viticulture and enology center at Surry Community College helped to provide a spark to plant a vineyard.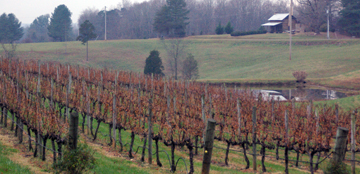 Vineyards
The vineyards at Stony Knoll began in 2001. The vineyards are planted in red clay soil. Van notes that one "can grow vinifera in this area with careful stewardship." Today the vineyard has ten acres of grapes that include Chardonnay, Cabernet Sauvignon, Cabernet Franc, Syrah, Merlot, Viognier, Chambourcin and Niagara. During a late November visit, leaves still clung to the vines.
Tasting Room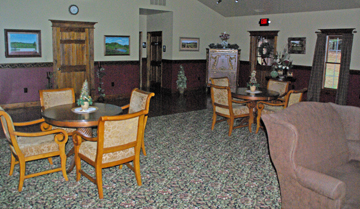 The tasting room represents an old world chateau house. Wine enthusiasts to Stony Knoll Vineyards will see what appears to be a home sitting on a knoll where the tasting room is located. Inside, the tasting room is elegant with long drapes at the windows. Areas are available for sitting and relaxing with a glass of wine.
The winery is located below the tasting room. Van Coe chose this style of tasting room because it reminded him of French wineries. The large tasting room was constructed with materials from the local community.
The focus of the wines is on dry reds although Stony Knoll Vineyards does have some whites and sweet wines. Van also produces some premium wines. Visitors can enjoy a great wine experience with a picnic on the grounds and spend a night in a lodge on the property.
White Wines
Chardonnay 2010 was a light yellow. The aroma and taste had apple and pear notes with a hint of caramel. The crisp finish had apple and pear notes with a touch of citrus.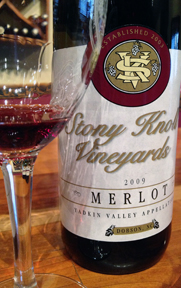 Red Wines
Cabernet Sauvignon 2006 was aged in oak barrels for four years. The ruby colored wine offered blackberry notes on the nose and taste with a touch of licorice on the taste. The finish was fruity with mild tannins. Merlot 2009 was a red color with an aroma and taste of cherry and leather. Mild tannins were on the fruity finish yielding to leather. Syrah 2008 was a red color with dark fruit and pepper notes. The finish had tannins and was earthy and spicy. Cabernet Franc had an aroma of berries with perfume hints. The taste was dry with hints of pepper. The dry finish was fruity. Consider pairing this wine with meat entrees. Chambourcin 2006 was produced with grapes from the nearby William Cornelius Vineyard. It was aged in French oak for five years. Wine nuances included cherries, and hints of spice and smoke. The wine finished with smooth tannins.

Stony Knoll Vineyards is the location for numerous weddings. With the chateau style building and vineyards, the property provides the perfect opportunity for wonderful photos.
When visiting Stony Knoll Vineyards, plan to have a picnic lunch on the grounds with a bottle of Stony Knoll wine.
Stony Knoll Vineyards
1143 Stony Knoll Road

Dobson, North Carolina 27017
GPS: N36º 18.389' W80º 40.465'
Article written in December 2012
---
Visit this North Carolina Winery