Country Squire Winery
by
K.L. Sullivan
Summary: Located in the countryside of eastern North Carolina, The Country Squire is a destination spot encompassing events, lodging, a wonderful dinner menu and a recently started winery.
Arriving at The Country Squire Inn for a wine tasting, we discovered a large rambling building partially hidden in a grove of trees. Old, maintained logs immediately draw one's eye. Upon entering, log walls continue as one enters a darkened room, highlighted with candles burning from wine bottles.
Finding our way to the wine tasting area, we passed sections ready for dining in the evening. Bright red tablecloths and candles burning add a glow to the charm of this unique sprawling building. The current tasting room is in a rectangular portion of the Baronial dining room – the oldest part of the building built in the 18th century. Tartan plaid drapes decorate the window. Overhead artificial grapevines decorate the area above the tasting bar. Along one side, shelves of gifts are available. A local artist displays jewelry also available for purchase. Local artists' paintings are for sale. Other gift items include painted wine bottles, note cards, candles and baskets.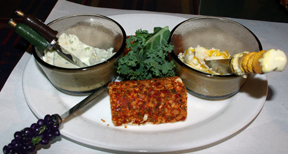 We met Rainy Smith, winemaker at The Country Squire. The first Vintage was in 2005. Currently, Rainy purchases the grapes for the winery. Tastings include cheese spreads which are locally made from goat cheese. The winery produces just under 3,000 cases of wine and most is sold in the tasting room and restaurant. Future plans include enlarging the tasting room area.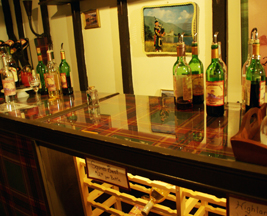 We tasted several wines while visiting with Rainy. Jester's Folly was a Pinot Grigio with grapefruit on the nose, a fruit flavor and crisp. Court Yard Maiden Riesling was a pale yellow. It had a floral nose with a fruit taste and some mineral on the aftertaste. Pride of Scotland was a Chardonnay with a floral nose, butter and fruit taste. It was very smooth with light oak on the finish. Highlander was a Cabernet Sauvignon and Merlot blend. It was fruit forward with spices on the finish. Highland Mary was a Merlot named for Rainy's Grandmother. It was a dark red purple with a dark red fruit taste. There was a good balance of fruit, acid and tannins. Apple Orchard Riesling had a definite apple aroma. It was sweet and smooth. If you added a touch of cinnamon, you would have liquid apple pie. Black Knight Cabernet was a blend of red and white grapes infused with blackberries. It was sweet with a good blackberry aftertaste.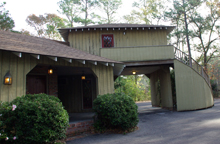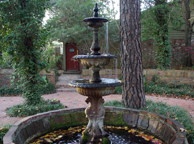 The Country Squire facility is a large venue and many events occur here. Proposals, weddings, anniversaries, class reunions, theatre shows and more take place with the Christmas season being the busiest time of the year. As we tasted wines, we met a couple who had come to celebrate their 50th Wedding Anniversary.
There are several dining rooms. A specialty of the house is the 72-ounce steak. If one person can eat the steak and all the accompaniments in one hour, the meal is free. Two brave souls were going to attempt this as we were leaving. Nestled amongst the woods is the Country Squire Inn.
When you visit The Country Squire, make plans to include tasting wine, eating dinner and spending the night at the inn just feet from the tasting room.
GPS N 34° 58.314' W 078° 00.728'
---
Visit this North Carolina Winery