McRitchie Winery & Ciderworks
by
K.L. Sullivan
Summary: Only a short distance, from the Blue Ridge Parkway at milepost 229, McRitchie Winery & Ciderworks is a pleasant winery to stop at before continuing on your way along the parkway. Choose between white wines like Chardonnay to red wines like Merlot. They are the first winery in North Carolina to produce hard cider.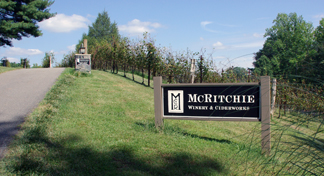 Located in Thurmond, North Carolina, McRitchie Winery & Ciderworks is a family-run winery and vineyard owned by Patricia and Sean McRitchie. Sean and his father have been in the wine industry for a long time. Originally from Oregon, Sean has been involved in the wine industry in Oregon and California as well as other areas of the world before moving to North Carolina. His worldwide experience has helped him to start his own winery. Production the first year was 600 cases and today will reach just over 1000 cases.
The winery is located at the end of an uphill driveway. A handmade signpost informs visitors just how far they are from other wineries of the world. Destinations include: Sonoma 2272 miles, McMinnville, Oregon 2271 and Napa Valley 2263 miles. Just beyond the sign is the tasting room and offices located in the house that came with the purchase of 30 acres of land.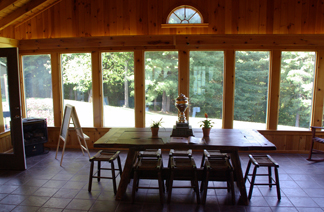 Just before you enter the tasting room, two friendly winery dogs may welcome you. The tasting room is comprised of two rooms. The first room has a large table and many windows with a lovely view. The tasting counter is in the adjacent room. Some wine accessories are available for purchase including wine chillers, wine bags and totes. An interesting accessory is a wine/prism that a note says will help one to identify characteristics of wine.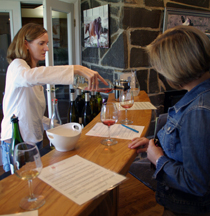 Patricia poured our tastings. The Yadkin Valley Pinot Gris 2007 had a grapefruit aroma with a velvety grapefruit taste and a crisp finish. The Yadkin Valley Traminette 2007 offered a floral and apricot aroma. The taste was smooth with a touch of effervescence. It was cleansing and had peach on the aftertaste. Pale Ride 2007, a Sangiovese rosé had a strawberry aroma with velvety taste and a crisp strawberry finish. Ring of Fire 2007 was a blend of Cabernet Sauvignon, Cabernet Franc and Petit Verdot. The color was dark red to purple. The aroma had notes of cherries and blackberries with a smooth cherry and blackberry taste. It was crisp with soft tannins. Merlot 2006 offered a black cherry and coffee nose. The taste was smooth and fruity. The finish was crisp with soft tannins. It had a long fruit–jam aftertaste.
The McRitchie Winery is the only producer of hard cider in North Carolina. The nose of the hard cider was light apple with carbonation. The taste was crisp with a cleansing apple aftertaste. It had seven percent alcohol. The Niagara sparkling was golden yellow. It had a Niagara aroma and a taste of Niagara with effervescence. The finish was crisp and cleansing with a Niagara aftertaste.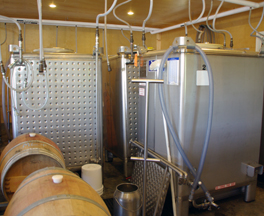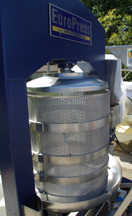 We met Sean after our tasting and we saw the rectangular stainless steel tanks he prefers to use. He also has an old English beer keg to help him in producing the hard cider with effervescence. Sean makes the apple wine first and then adds the CO2.
The newest piece of equipment at the winery is a hydraulic press that can press up to four times more than a traditional bladder press. Made in Germany, McRitchie Winery is the only winery to have this press on the East Coast.
When planning your visit, be sure to include a picnic basket and enjoy it on the grounds of the winery.
McRitchie Winery and Cider Works
315 Thurmond PO Road
Thurmond, NC 28683
GPS N 36° 36.719' W080° 94.743'
---
Visit this North Carolina Winery