A Secret Garden Winery
by
K.L. Sullivan
Summary: A Secret Garden is what many organic consumers would like to be able to find. Here is a winery devoted to organic wines. When speaking with Linda, she shows her concern in how she treats her soil and how it affects her grape vines.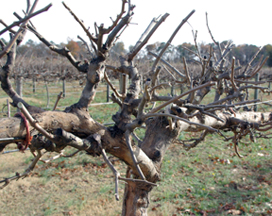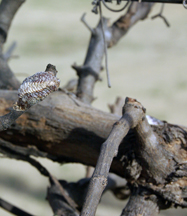 A Secret Garden is an apropos name for this small winery and vineyard. We met Linda Wall Hall, the owner and winemaker at A Secret Garden, as she was busily beginning to prune her vines. It is a time consuming process even in a small vineyard. As she was pruning, she was looking for "good" insects and proudly pointed out a beneficial Carolina Mantid egg case she had found earlier. Purple martins also help. Last year she had found Japanese beetles to be a problem but she was loath to use chemicals of any kind and with research and perseverance was able to alleviate the problem. She believes, "If I feed the soil… the plants will be healthy. Nurse the soil and the plants will be healthy." Linda added that taking care of the health of the vineyard is similar to taking care of the health of your body.
Linda planted her first grapevines in 2002. Today she harvests 6,000 pounds. The vineyard consists of the Muscadine grapes, Noble and Carlos, which are very disease resistant. The vineyard consists of one-half acre of older vines and a quarter acre of new vines. Linda is not interested in the quantity as she is in quality.
In addition to not using chemicals in the vineyard, Linda does not add additional sulfites during the winemaking process. She also makes wine only using native yeast. Her fruit wines are made with the native yeast on the fruit. Rather than using chemicals to fine the wine, she racks the wines at least four times a year. It takes longer to ferment the wine when commercial yeast and chemicals are not used. Some say that Muscadine wines should not age and be drunk young. Linda likes aging her Muscadine wines. They begin to mellow. She told us that, "I'm here to break rules. Why not do something different and see what happens."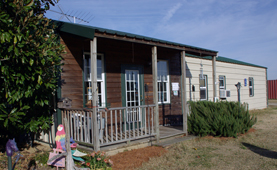 Linda and her husband built the winery and tasting room themselves. The winery opened in 2004. The tasting room is small but friendly with wine colored curtains as a backdrop.
Linda compares winemaking in terms of preserving and says winemaking is "like preserving the harvest." During the crush, the whole Muscadine grape is used.
We tasted several of the wines Linda produces. Tastings are with crackers and cheese. Hush-Hush Blush was the most preferred wine, which was a semi-sweet blend of Carlos and Noble. It had a dark amber color was sweet, smooth and fruity with just a hint of earthiness on the aftertaste. Southern Breeze was from the Noble grape and had an earthiness smell. With a sweet grape taste, it was smooth and crisp on the finish with a long aftertaste. Golden Harvest was produced from Carlos. With a yellow color, and a grassy and grape nose, it had a dry citrus taste with earthiness on the aftertaste.
Linda also produced three fruit wines. Peach had a peach nose and taste. It had a balance of fruit and acid. Strawberry Squeeze had a strawberry nose and taste and was slightly sweet. Blueberry Hill had a blueberry nose and taste and was slightly sweet.
During our tasting, a customer came in to buy some wine. He heard us talking about the health benefits of Muscadine grapes and he related that he drinks 8 ounces of Carlos each evening. He no longer has to take medication and sleeps through the evening. We have heard other anecdotal stories like this with people who have a glass of wine made from the Muscadine grapes.
Although not certified on the label, we believe anyone interested in organic food and sustainable farming will enjoy visiting with Linda and learning more about her beliefs regarding good soil.
GPS 35° 28.762' W077° 57.880'
---
Visit this North Carolina Winery