Hinnant Family Vineyards
by
K.L. Sullivan
Summary: Hinnant Family Vineyards is a winery you will not want to miss. The emphasis for this winery is the Muscadine grapes. The tasting room has a friendly atmosphere and everyone we met is very welcoming. While the Muscadine grapes may be an acquired taste for some, many consider them delicious and there are some who believe the grapes have many health benefits.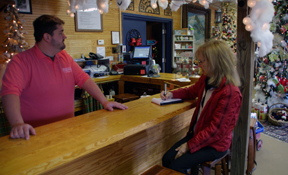 Set back from the road the Hinnant Family Vineyards is easy to find, with a large wraparound porch, decorated with a winter holiday theme. The holiday welcoming sight was only a hint of the welcoming we received while visiting.
Just inside, we met Wesley Dills and he offered to take us on a tour of the winery. During the tour, we met Willard and Bob Hinnant, father and son, who spent time talking with us about Hinnant Vineyards and the wine industry. Both Willard and Bob left careers in the dental field to concentrate on the winery.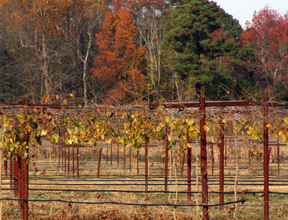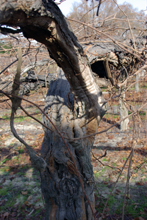 The vineyards began in 1971 and today has the largest and oldest Muscadine acreage in North Carolina. Currently the vineyard has 80 acres of grapes with 200 vines per acre. With a production of 10,000 cases, all estate Muscadine, they hope to increase production. Amanda and Robert Hinnant opened the commercial winery in 2002. Robert is the winemaker.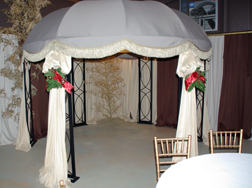 A recently completed event room with a capacity of 150 people has been booked solid from April to the first part of December 2008. Walking through the beautifully decorated event room, Robert mentioned with pride that his wife was responsible for the decorating.
The tasting room atmosphere is friendly. Numerous gift items are on display, highlighted by at least five Christmas trees of all sizes. Items for sale include candles, praline pecans, climbing tendrils, decorated kitchen towels and designer nightlights.
After the tour, we tasted several Hinnant wines. Our tasting was inside the tasting room but in the summer tastings may take place outside. Wesley mentioned that when he does tastings with visitors who have not tasted before he suggests that they close their eyes and think about what it makes them think of.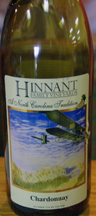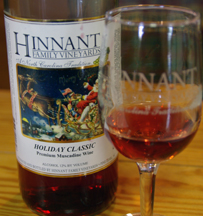 Noble was a dry, red Muscadine with a dark red color. It had a grape nose with earthiness and grape taste. The aftertaste reminded us of the woods during springtime. Chardonnay was a light yellow, aged in stainless steel followed by two months in oak and then placed back in stainless steel. It was medium-bodied, fruity with a slight hint of oak and a hint of sweetness. Southern White produced with "Carlos" had a grassy nose. It had a heavy body, sweet and fruity taste and a very slight earthiness on the aftertaste. Southern Red was a blend of Noble with a touch of Concord. It was medium-bodied with an earthiness on the nose, like a spring forest floor. The taste was fruity and sweet. Muscadine Blush was the most "award winning" wine and a blend of 90 percent Carlos and 10 percent Noble. It was medium-bodied with an amber color, crispy and cleansing. Carolina Wildflower was a blend of Carlos with wildflower honey. It had a grass and clover nose with a medium-body. The taste was sweet and grapey. The honey lingered on the aftertaste. Magnolia had a spring rain nose and was light to medium-bodied. It had a sweet grape taste and was crisp on the finish. Scuppernong was pale yellow with fresh grapes on the nose. It was heavy-bodied with a grape taste. It was sweet but not syrupy sweet. Tar Hill Red, a blend of 75 percent Noble, 20 percent Concord and 5 percent Niagara was light-bodied with a sweet grape taste and earthiness on the aftertaste. Holiday, a blend of 50 percent Tar Hill Red and 50 percent Scuppernong was light-bodied with a grapey taste and a little earthiness on the aftertaste. The Holiday Classic is a holiday wine made with Muscadine Grapes. One can add mulling spices and one-fourth to one-half cup of brown sugar to this wine to make a delightful Holiday wine.
While visiting be sure to try the fruit wines. Pomegranate Wine, 100 percent pomegranate had a pomegranate nose and taste with a balance of fruit and acid. Just Peach, 100 percent peach, had a sweet peach taste. Peachy Too, a blend of 75 percent Carlos and 25 percent Just Peach was sweet and earthy with a touch peach.
When you have the opportunity, be sure to take time to visit Hinnant Family Vineyards.
GPS N 35° 31.376' W 078° 14.179'
---
Visit this North Carolina Winery