Duplin Winery
by
Kathy and Terry Sullivan
Summary: Duplin Winery located in southeast North Carolina is one of the largest wineries in the South and is the largest producer of Muscadine wines in the world. When you visit, enjoy the friendliness of the staff, the Muscadine wines and traditional wines, and the large selection of gifts. Duplin Winery is a year-round destination with a combination of winery tours, wine tastings, bistro and dinner shows.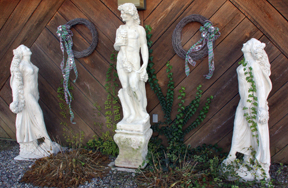 Outside of the Duplin Winery tasting room are several picturesque statues. In front of the building a narrow porch is set with small tables for sharing a bottle of wine. At the door, a large sign is posted with the time for the next tour. Inside the there are numerous gifts available to purchase, including jewelry, food items, wine gift baskets, wine accessories and many others.
Jonathan, one of David Fussell's sons, met us when we arrived at the winery. He animatedly discussed the long history of the winery and the production of Muscadine wines. Jonathan is excited about the winery and his enthusiasm is contagious. He is great at customer relations as was evident by his greeting everyone he met as if they were life-long friends. He was showing the Southern hospitality that we have always heard so much about.
The Duplin Winery is a large family winery but not so large that they forget customer satisfaction. They realize that without the customers, the winery would not exist. Jonathan enjoys having a hands-on attitude at the winery. He guided us to a room for special presentations where we watched an entertaining and informative ten-minute video on the history of Duplin Winery.
Duplin Winery has had its difficulties since the Fussell family began growing wine grapes in the early 1970's. They planted the farmland with wine grapes because the Canandaigua Wine Company was purchasing grapes at a good price. The market for grapes bottomed-out quickly. Not willing to risk losing the farm and after much thought and prayer, the Fussell family began the winery. In the early 70's, David Fussell began the winery. Only producing 200 gallons in 1975, by 1983, 40,000 cases were produced. It would be years later before they would produce that quantity again. Due to a change in taxation and a change in the wine distribution laws, production fell as low as 5,000 cases.
Marketing was stepped up and in 1994, Duplin Winery began to host events. Dinner shows became popular. Currently about 30 events are offered and 98 percent are sold out. Christmas shows sell out before September 1. Production dramatically increased in the 21st century, as research began to show the benefits of red wine and the health benefits of Muscadine wines. According to research studies, all Muscadine wines have ten times the amount of antioxidants than other red wines. Current case production is at 270,000 cases.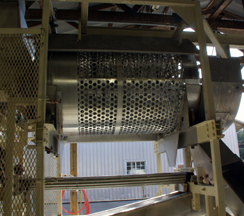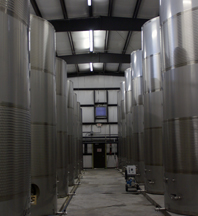 Jonathan gave us a tour of the winery, just a short drive from the tasting room and bistro. He recounted the jobs he had at the winery while growing up. One of those jobs was to take the skins, pulp and seeds to a compost pile. That job is no longer the chore that it use to be. Today 98 percent of the Muscadine grape is found to be useful. After extracting the juice, grape skins and seeds are used for cosmetics and nutritional supplements. The winery is large and there is room to grow and increase production.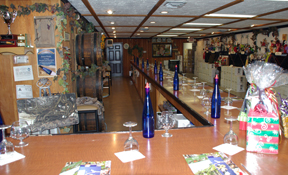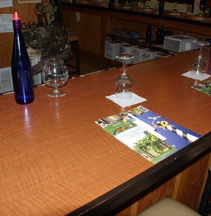 After our tour, John guided our wine tasting. At the tasting counter, an information packet accompanies the wine glass. The packet includes information about all the Duplin wines and a tasting sheet of the 15 wines available on that day for tasting. The tasting sheet has room for a few notes and a rating scale to rate the wines. The prices of the wines are also on the tasting sheet. Tastings are informal and comfortable. With the possibility of tasting 15 wines, tastings and conversation can take awhile. Comfortable stools are available for you to sit at the counter.
On the day of our visit, we tasted several wines. Most wines were made from Muscadine varieties of grapes. Carlos had a floral nose and was medium-bodied. It had a grape taste and dried out on the aftertaste. Magnolia was lightly floral, medium-bodied with a fruity taste and sweet aftertaste. Midnight Magnolia was an estate wine with a floral nose. It was sweet and crispy, not syrupy. Brice's Creek was named after Jonathan's Grandmother. It is a blend of 95 percent Scuppernong and 5 percent Niagara. It had a floral and grape nose with a sweet, fruity flavor. Scuppernong Reserve was sweet with a medium-body. It had a floral and grape nose, and a fruity sweet taste. Pink Magnolia is a blend of 60 percent Magnolia and 40 percent Noble, the darkest of the Muscadine grapes. It had a floral nose, grape taste and was sweet. Santa's Treat is a light red blend of four grapes: Noble, James, Coastal James and Nebsit. The result was sweet and light with a balance of the sugar and acid. Christmas Wine is one-third Haritas, Carolina and Burgundy. It was a beautiful red with a nice balance between fruit and acid. Vintner's Almondage had almond on the nose, was a sparkling wine with almond flavor made with the Chardonnay grape. Raspberry Delight was a Chardonnay with a hint of raspberry. Mulling Spice Wine Kit makes a wonderful wine for the holiday season.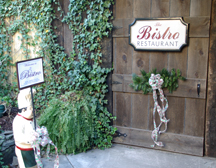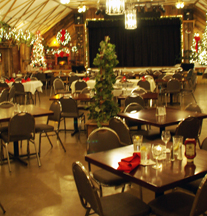 After the wine tasting we had lunch in the Bistro restaurant. It was delightful to sample the cuisine accompanied by a Duplin wine. The Muscadines are food friendly and there is a range of tastes and levels of sweetness to match ones interests.
When you visit Duplin Winery, you will have an opportunity to taste several varieties of Muscadine wines. Plan to take the tour, taste wines, shop in the gift area and eat in the Bistro. If you wish to see a dinner show, be sure to reserve a space well in advance. In just a moment you will feel like family and experience Southern hospitality.
Duplin Winery
505 N. Sycamore Street
Rose Hill, North Carolina 28458
1-800-774-9634
GPS: N 34° 49.840' W 078° 01.458'
---
Visit this North Carolina Winery