Hanover Park Vineyard
by
Kathy Sullivan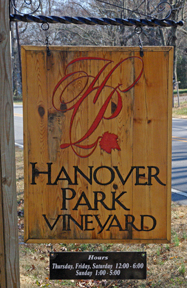 Summary: Hanover Park Vineyard provides a delightful spot for wine enthusiasts to stop and enjoy a wine tasting. Visitors are encouraged to carry a picnic lunch to enjoy on the property with a bottle of Hanover Park wine.
The concept of Hanover Park Vineyard began when Amy and Michael Helton honeymooned in France. While in France, the newly married couple was bit by the wine bug. Amy, with a background in weaving, taught art to middle school students. Michael has been both a professional artist and an art teacher. After returning to the United States, Amy and Michael did a lot of research before starting Hanover Park Vineyard.
After contemplating owning a vineyard and winery, the couple purchased a piece of property in 1996. The purchase came with a farmhouse built in 1897. Today the farmhouse has kept its charm and is the tasting room. An adjacent room is available for small events.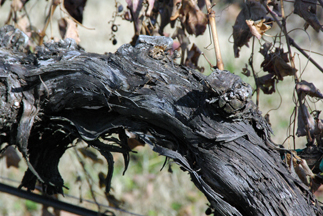 Vineyard
The Hanover Park Vineyard was planted in 1997. They have discovered the vineyard has a climate similar to southern France. Michael noted that in France there is a "respect for where you are" and Michael and Amy honor that French approach. According to Michael, in France there is an integrity – they work with what they have.
The eight acres of grapes are on a lyre trellis system. Varieties include Cabernet Sauvignon, Cabernet Franc, Merlot, Malbec, Petit Verdot, Mourvedre, Syrah Grenache, Cinsault, Carignane, Chambourcin, Viognier, Marsanne, Roussanne and Chardonnay. A late November visit allows one to view the architecture of the vines.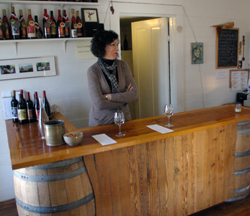 White Wines
Hanover Park produces approximately 2,000 cases depending on the weather for a particular year.
Viognier 2011 was a light yellow with an aroma of floral notes. The taste also had floral notes with some pineapple and yellow stone fruit. Barrel Fermented Chardonnay 2011 was produced in Hungarian oak. The yellow wine offered apple and caramel notes on the aroma and taste. The finish was crisp and fruity with caramel. There was a hint of butter on the aftertaste.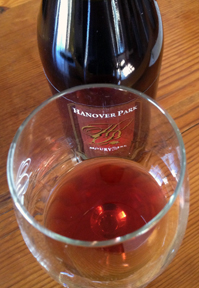 Red Wines
Chambourcin 2006 was red with sienna hues. The aroma and taste offered hints of red berry fruit. The wine finish had mild tannins. A wine named for the farmhouse was 1897, a 2004 vintage. It was produced with Cabernet Franc, Merlot and Cabernet Sauvignon. The wine aged for five years. The result was a ruby color wine with dark fruit notes. The wine had tannins and was fruity and delicious. Mourvedre 2008 also had a little Syrah and Grenache in the blend. The aroma was earthy with hints of mushrooms. The taste was dry with dark fruit notes and earthiness. The finish was fruity and lingered. Michael also produces a wine named Michael's Blend 2008. The wine was dark red with hues of orange. It offered dark fruit on the aroma and taste. Hanover Park Reserve is a blend of Merlot, Cabernet Sauvignon (from two different years) Cabernet Franc and Syrah. The wine was a purple/red color. The aroma and taste were earthy with notes of mushrooms. The wine was smooth and dry. The finish was fruity with bold tannins.
Port Hanover was produced with Chambourcin. The wine was a ruby color with sienna hues. The aroma offered dried fruit notes reminding one of raisins. The taste was velvety and fruity. The finish was fruity.
Food and Wine
In addition to enjoying the winery business, Amy is an avid cook. Amy noted that she is the type of cook who just combines ingredients together – she doesn't need a recipe. Besides cooking at home, Amy cooks for small special events at the winery. She is comfortably cooking for two or 32 guests. She does suggest that anyone planning a wedding should contact a caterer.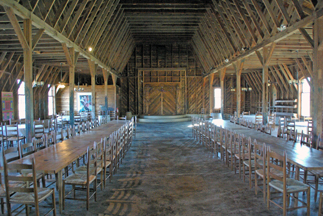 Events at Hanover Park
After establishing the vineyard and winery, Michael and Amy purchased a large building next to their property. The facility now named "The Studio" has been renovated and is available for parties, business meetings and weddings.
While exploring wineries and vineyards in the Yadkin Valley, be sure to add Hanover Park to your itinerary.
Hanover Park Vineyard
1927 Courtney-Huntsville Road 

Yadkinville, North Carolina 27055
GPS: N36º 03.707' W80º 37.396'
Article written in December 2012