Buck Shoals Vineyard & Winery
by
K.L. Sullivan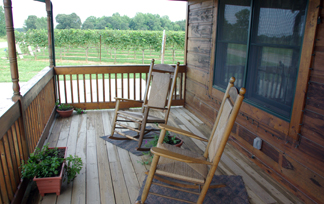 Summary: Enjoy your tasting in the log cabin-style tasting room. The tastefully decorated room exudes a warmth and comfortable feeling as you browse unique gift items and taste wines. You will discover that Buck Shoals is the only winery in North Carolina that produces a mead wine. If you like apple pie, be sure to try the Apple Mead.
Buck Shoals Vineyard & Winery is a family winery that began as a result of a long interest in enjoying wine. In 2003, Terry and Joanne Crater planted their first five and a half acres of grapevines. The winery was constructed in 2004.Today they have seven acres under vine and hope to increase in size. The vineyards consist of Merlot, Cabernet Sauvignon, Pinot Grigio, Chardonnay, Sangiovese, Traminette, Barbera, Nebbiolo, Cabernet Franc and Petite Verdot. Current production is 3000 cases. Eventually they would like to reach 5000 cases.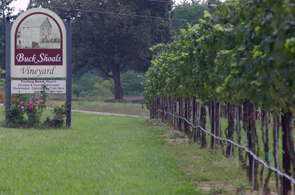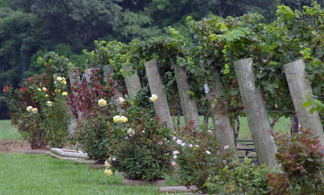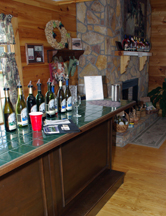 The tasting counter has green ceramic squares and the curtains at the windows behind the counter have wine related designs. Over the window a sign quotes Aristotle, " Wine Makes Everyone Hopeful." A large stone fireplace occupies one corner of the room. Labels for the wine bottles use a picture of historic Buck Shoals Mill.
Joanne began our tasting with the Viognier 2006. This white wine offered a floral and peaches aroma and fruit salad taste of peaches, pears and grapefruit. The finish was crisp, fruity and long. This Viognier pairs well with spicy cuisines, salads and poultry. Shoals Creek Gold is an all honey mead. The aroma was a strong honey and it offered a honey and wild flowers taste. It dried on the finish with a long honey aftertaste. Pair with poultry, seafood or chilled soup. Rocco Red, named for Joanne's father, was a blend of Sangiovese, Chambourcin, an Italian Blend and a Cabernet Blend. This is a "Chianti style" wine. The aroma and taste were of red cherries and the finish was long and crisp with mild tannins. Vito's Pride, named for Joanne's Grandfather, offered a red cherry aroma and taste. The taste also had notes of pepper. Tannins were noticeable on the crisp finish. This would pair well with grilled food. Chambourcin 2006 offered a berries and spice aroma. The taste was velvety with berries, pepper and spice. The finish was long and crisp. Consider pairing Chambourcin with duck or venison. Shoals Creek Blue Blueberry Honey Wine had a strong blueberry aroma. The taste was smooth and of blueberries and honey. There was a fruit finish and a good balance between blueberries and honey. Bryan's Legacy was a blend of Traminette and Viognier that was sweetened with juice from Traminette's grape. The aroma was floral with honey. The taste was smooth and fruity while the finish was crisp and long. Apple Mead was sweet with an aroma of apple and cinnamon. The taste and finish was definitely apple pie.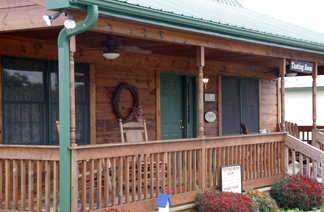 Every winery has a slightly different way of conducting a tasting. We noted with pleasure that between each tasting Joanne rinsed our glass with water and then tipped the glass upside down on a napkin to drain the excess water before pouring the next tasting. This allowed for the "true" taste of the next wine without it being watered down by extra water.
Be sure to browse the gift items while visiting. You will find gift items from cigars, wine bottle lamps, trivets, bottle candles to gourmet foods including sweet mustard. Exclusive products available only in the tasting room include a white wine jelly and a red wine jelly. The white wine jelly is made with Bryan's Legacy while the red wine jelly is made with Shoals Creek Red.
Buck Shoals Vineyards
6121 Vintner Way,
Hamptonville, North Carolina
GPS N 36° 10.169' W080° 86.250'
---
Visit this North Carolina Winery