Lake James Cellars
and Old Mill Antiques
by
Kathy Sullivan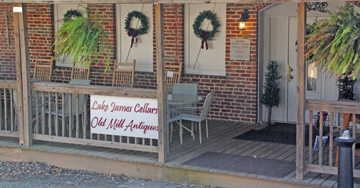 Summary: Lake James Cellars in Glen Alpine, North Carolina provides a unique experience for visitors. The two-room building features wine tastings and many antique/vintage items to browse. This winery and antique shop are family owned and operated.
The Lake James Cellars owners acquired their current building in 2004 after it had been abandoned for a year. It had been an antique store and while the current owners have kept a large portion as an antique store, they have added the tasting room and winery.
The red brick building was built in 1915 as a textile mill that made cotton socks. At one time, the Glen Alpine Knitting Mills Inc. was a busy textile mill with three shifts a day.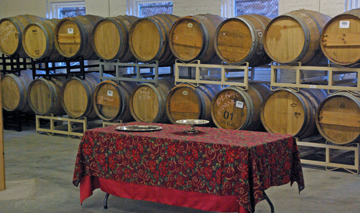 Mike and Betty Fowler, owners of Lake James Cellars, live in Lake James. They made wine in their basement and called their homemade wines Lake James Cellars. Their friends suggested that they keep the name Lake James Cellars when they opened the commercial winery. Josh Fowler, a son and winemaker, liked the idea of making wine and even made wine for his wedding. He has a biology degree with a minor in chemistry.
The winery is located below the tasting room and antique store. Stainless steel tanks are in one area and barrels are stacked along the walls in another area. The barrel room is a good size for events. Lake James Cellars currently produces 2,500 cases of wine from grapes sourced mostly from vineyards in North Carolina. Josh is detailed and tries to produce the highest quality he can.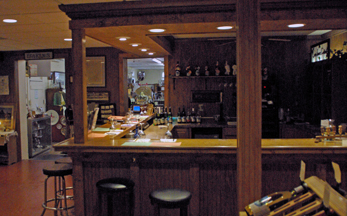 Wines
The L-shaped tasting counter overlooks the antique store. The wood counter and backdrop offer a touch of elegance to the tasting room area. Visitors can sit on bar stools at the tasting counter.
Chardonnay 2011 was a blend of Chardonnays produced in stainless steel and oak. The straw color wine offered notes of apple, pear and a hint of caramel. Apple and pear were on the taste. The finish was crisp with fruit and caramel notes.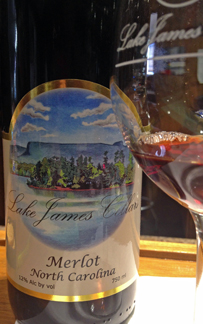 Merlot 2008 was a red color with a sienna hue. The aroma had cherry notes with an earthiness. The taste offered cherry and earthy nuances. The finish with tannins had cherry hints yielding to mushroom and earthiness. Syrah 2010 was a red color. The aroma and taste was of dark fruit and spice. The finish had tannins with fruit and spice. Pepper kicked in on the aftertaste. Mimosa Red 2009 was a blend of Cabernet Sauvignon, Cabernet Franc and Syrah. The wine was named after the mimosa tree, a native species in the area. The wine was aged in French oak for 36 months. The dark ruby color offered notes of dark fruits. The finish was crisp with tannins, fruit and leather nuances. Barbera 2009 was a dark ruby color. The aroma offered notes of black fruits especially black cherry. The wine finished with black fruit and hints of leather.
Fruit Wines
Several fruit wines are produced at Lake James Cellars. Fonta Flora Blush was a cranberry wine with cranberry notes and the wine was smooth. Table Rock Red was a wine produced with Pinot Noir and black cherries. The wine was fruity and smooth. This wine was paired with dark chocolate. Summer Slice was a blend of watermelon and white Merlot. The aroma had a slight watermelon scent and the taste reminded one of a watermelon Jolly Rancher. The watermelon taste lingered on the finish. Indian River wine was produced with pink grapefruit. The aroma was of citrus especially grapefruit. The taste was sweet and crisp.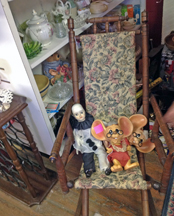 Antique collectors will be sure to enjoy the large room filled to the brim with antiques and vintage items. Look for everything from doilies to vintage toys while enjoying a glass of wine.
Lake James Cellars 

204 East Main St, Highway 70
 

Glen Alpine, North Carolina 28628
GPS: N35º 43.732' W81º 46.536'
Article written in December 2012
---
Visit this North Carolina Winery