SilkHope Winery
by
K.L. Sullivan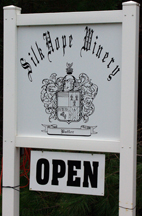 Summary: SilkHope Winery is located in the central Piedmont area of North Carolina. You will enjoy the laid back atmosphere at Silk Hope. Currently one room encompasses the tasting room and winery. Enjoy the relaxed atmosphere and wine while you visit with Wally Butler, owner and winemaker. SilkHope Winery focuses on dry table wines.
A sign at the end of the SilkHope Winery driveway makes it clear where to turn. The driveway is of gravel and uphill. Parking is up and around the winery. The area is one of the highest in the area with an elevation of about 700 feet. The red, loamy soil is a good soil type for hybrids and vinifera.
A great quote from Wally comes to mind as we think back to our visit to SilkHope, "What we don't make up in a pretty building, we make up in hospitality." Wally enjoys talking with visitors about wine.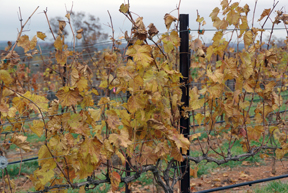 Wally started the vineyards using hybrid grapes in 1996. He opened the winery in 2000. He had been experimenting with wines for about 20 years before developing this winery into a business. Today he has two plus acres of vineyards and plans to add more. Currently the winery produces 500 cases each year. A tall electrical fence surrounds the vineyards guarding the vines from deer.
Grapes growing in the vineyards include Chambourcin, Cabernet Franc, Norton, Vidal Blanc and Traminette. The soil is a red, loamy and good for growing grapes. The vineyard has a challenge guarding against Pierce's disease as many vineyards do. Wally was advised that the best way to handle the infected vines is to pull the plant out and replant. This seems to be a better solution than cutting the plant back.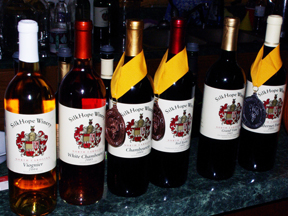 When you visit and taste the wines, be sure to notice the label. This is the family crest. Wally's mother who studied genealogy suggested he use the family crest. It provides for an elegant label.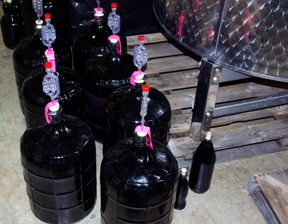 While we talked with Wally about SilkHope Winery, we tasted several wines. White Chambourcin 2005 was a light pink/orange color. It had a strawberry nose and taste.The wine was light and crisp. Red Chambourcin 2005 was a dark red/purple opaque. It had a cherry nose and a cherry/current taste with a cherry aftertaste. Red Roots had a blend of 50 percent Chambourcin, 40 percent Touriga and 10 percent Cabernet Franc. It had a deep purple opaque color. There was a dry red fruit taste and cherry on the aftertaste. This wine was smooth. Grand Vista was 25 percent Cabernet Franc and 75 percent Chambourcin. It was dark purple with a dark red fruit nose and taste. It was very smooth with soft tannins. Cabernet Franc 2005 was dark red with a balance of fruit, acid and tannins.
One of the things Wally enjoys about winemaking is the sharing that takes place among winemakers. Ultimately, Wally would like to have a wine bar that would serve North Carolina wines. There is a good feeling among the wineries of North Carolina. As we visited more wineries, people mentioned Wally as being a friendly winemaker and we have to agree wholeheartedly. When you visit SilkHope, enjoy taking time to visit with Wally. He believes that the number of different varieties of grapes is what makes wine producing so exciting.
GPS N35° 46.098' W 079° 16.604'
---
Visit this North Carolina Winery