GlenMarie Vineyard and Winery, Inc.
by
K.L. Sullivan
Summary: Their winery may be a bit small but the friendliness of Glendale and Joyce Dickey as well as their wines make the difference. When you visit GlenMarie Vineyard and Winery, you will find food-friendly wines and sweet wines. Glendale uses only stainless steel and glass in producing wines. Visitors have been from other countries and states as far away as Texas, Hawaii and California.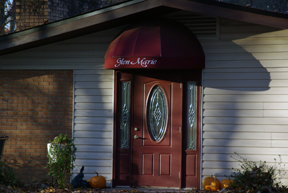 Located in Burlington, North Carolina the GlenMarie Vineyard and Winery is the enterprise of Glendale and Joyce. The winery officially opened in 2005. Currently with two acres of grapes across the road and by purchasing some grapes, the winery produces 400 to 500 cases of wine. While they will grow, Glendale and Joyce want to keep the winery small as they do everything themselves.
The Christmas gift of a home winemaking kit from their children precipitated the beginning of this winery. After only three years of making wine as a hobby for themselves, they decided upon retiring to start a commercial winery.
Glendale and Joyce wanted to check the market for the winery, before investing time and money into a winery. Since the vineyards were already started, they decided to host a viewing of the vineyards and gave wine to the participants. The first year 150 people showed up and drank five and a half cases of wine in two and a half hours. The second year they invited 200 people and 400 showed up. Deciding there was a market for wine in the area, they decided to proceed with the winery.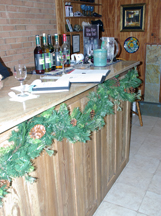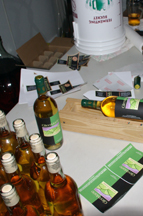 In order to cut costs they have converted a room at their home into a tasting room. Much detail has gone into the design and the result is a cozy room highlighted with a fireplace. The wide quartz countertop sits atop a counter made from wood doors donated from a nearby neighbor. Outside of the tasting room is a patio. If you would like to plan an event for 6 to 8 people, check out this unique idea from the winery - Host a Wine Experience at GlenMarie Winery. This may be the perfect place to host a small, intimate get together.
The winery is in a converted garage now with an addition, where Glendale uses only stainless steel and glass in producing wines. Glendale decided not to use oak in producing wines. Why? Because he prefers unoaked wines. Glendale produces labels on his computer and Joyce and he apply the labels by hand using a wood frame one of his sons built for him.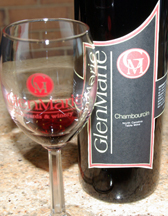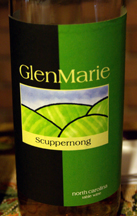 As we talked with Glendale and Joyce about the development of their winery, we tasted several of their wines. The Chardonnay had a fruit nose and flavor and was crisp. Chambourcin was a dark purple color with a fruit nose and red fruit taste. Cabernet Sauvignon was dark red/brown with a red cherry nose and cherry taste. Dallas Red was a dark purple blend of Baco Noir, Villard Noir, Rougeon and Chancellor. It had a fruit nose, mixed red fruit taste and a crisp finish. Carolina Springtime, a dry rose wine, is a blend of Rosetta and Traminette. Summer's Promise is a blend of Seyval Blanc, Riesling and Vidal Blanc. It was medium-bodied with a fruit nose and was slightly sweet while dry on the finish. Scuppernong was semi-sweet with a grape taste and crisp on the finish. Strawberry is made of 100 percent strawberry. It was medium-bodied and semi-sweet. There was strawberry flavor on the finish that lingered.
We believe when you stop by GlenMarie Winery you will enjoy meeting and talking with Glendale and Joyce about their wines and their experiences. For those who are interested in starting their own small winery, you will discover many ideas while talking with Glendale.
GPS: N 36° 08.306 W 079° 19.908
---
Visit this North Carolina Winery