Creek Side Winery Note: Creek Side Winery closed in 2008.
by
K.L. Sullivan
Summary: The owners of Creek Side Winery, Angie and Fred Wallace are putting their heart and soul into this small winery. Wanting to continue growing or raising something on the centuries-old family tobacco farm, Fred investigated many options. Today they have a wine tasting room and offer several wines.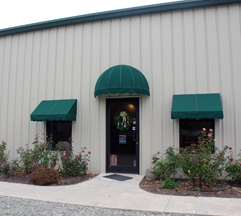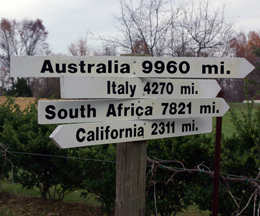 Arriving at Creek Side Winery after traveling a winding gravel driveway, we came to a modern building with green awnings over windows and the glass door. A Christmas wreath made the door cheerfully welcoming. Near the parking area, a set of road signs point the direction and miles to other grape growing regions in the world.
The land was originally a tobacco farm in Fred's family for centuries. Fred explored options for what to grow on the property including raising ostriches. However, after visiting Chateau Morrisette in Virginia and falling in love with the wine making process, Fred and Angie decided to plant a vineyard.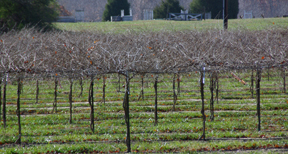 They planted Chardonnay in 2000 and Cabernet Franc in 2001. The winery opened in 2005. Currently they have five acres of grapes and purchase some grapes locally. Currently producing 1000 cases of wine, Angie hopes to reach 3000 cases.
Angie is the winemaker and has consultants to help her. In learning her winemaking skills, she has visited wineries across the country including Texas and Hawaii. Angie laughed as she recalled the hours they spent in grocery stores looking at labels to help them decide on the design they would use on Creek Side bottles.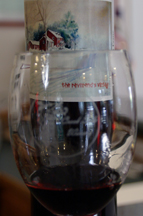 We tasted several of the Creek Side wines. Stoney Creek Red is a blend of Cabernet Sauvignon, Cabernet Franc, Merlot and Mourvedre. It has a cherry taste and is crisp with soft tannins. Cabernet Sauvignon, their most popular red, has smooth tannins on the aftertaste. Sunset, their most popular white, is a blend of Vidal Blanc and Traminette. Sunset, bottled in a blue bottle, has 4 percent residual sugar and is 12 percent alcohol. The Reverend's Vintage is a Cabernet Franc port. It is aged one year in American oak and six months in old Jack Daniel's oak barrels. The result is sweet and soft with a good balance between fruit, acid and alcohol. Chillin' Berry has a clean aroma. Try this with dark chocolate. It has a long raspberry aftertaste.
Creek Side Winery has events throughout the year. One particular event we saw advertised was for a series of wine tasting classes for 2008. The series will be offered by Father Gerry Waterman, OFM, a campus minister and winemaker. The series entitled "The World Wine Tour II," will include Australia, New Zealand, Germany, Portugal, Argentina and Chile. Father Gerry is also the creator of the painting now used on The Reverend's Vintage wine bottle.
Creek Side supports local artists and at the time of our visit, Kathy Alderman from Burlington had on display oil, acrylic and pastel paintings. Local artists display their art for six weeks at a time. Creek Side holds an artist reception for each artist.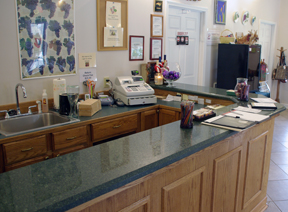 Creek Side Winery is a pleasant winery to visit. You will enjoy hearing firsthand how the winery began and their future goals. Creek Side also has cider and nonalcoholic drinks for those who do not drink alcohol. Outside the winery are several picnic tables under cover. Bring a picnic lunch and enjoy it with a glass of Creek Side wine.
GPS: N 36° 13.523 W 079° 29.417